We've tested and thoroughly enjoyed the Utillian 420 and were super excited when Tvape decided to send us the newest model, Utillian 421. With its new features, and slight reliability changes, the Utillian 421 is a portable dry herb vaporizer based on the Utillian 420 which is equipped with a larger battery, airflow control and a new and improved temperature settings offering you 6 pre-set temperatures: 180C, 190C, 200C, 210C, 220C and 230C, an upgrade over the previous model which has only 4 settings, giving you a wider range to customize your experience with your weed.
The Utillian 421 is a small and handy vaporizer, and it can be easily slipped into your travel bag or pocket whether in your shirt, jeans or jacket pocket, which means you don't have to travel without it.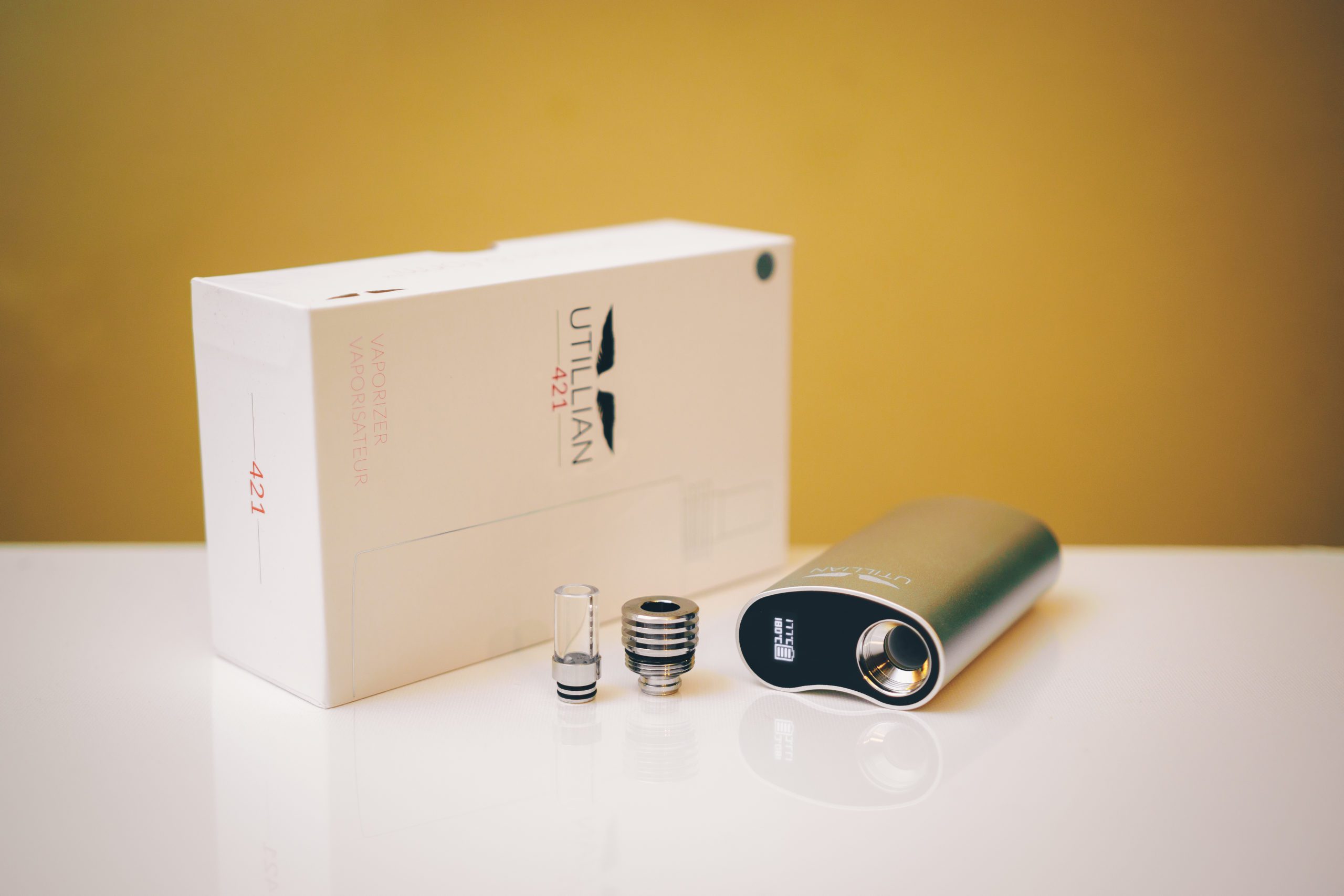 The wide OLED screen will make you love it. The digital display indicates battery life and your current temperature and for all of its operations including any temperature changes, the Utillian 421 utilizes a single button. This is quite simple.
The redesigned top cap features thicker threads to prevent binding or counter threading, while a small screen prevents herbs from getting away. The big ceramic heating chamber makes it an amazing device.
When the vaporizer is fully charged, it heats up in 60 seconds and it produces smooth and flavorful clouds if you pack it properly which can be easily inhaled through the straw-like mouthpiece.
In the previous model, the steam quality was already pretty good, and yet, the Utillian 421 surprises as well. The mouthpiece glass material is ideal for pure steam enjoyment, as glass does not have an inherent taste. The battery life of the 421's is 60 minutes and it can keep your session going all day long.
Despite all these innovative modifications, the Uttilian 421 still preserves the same slim and ergonomic shape of the Utillian 420. One of the best things about this device is how affordable it is and the 6 temperatures were more than enough to satisfy our vaping needs.
Features:
83mm tall body + 24mm mouthpiece extension
Weight: 115g
Battery Capacity: 2300mAh
Roughly 60 minute run time
Automatic turn off power saver
Anodized aluminum shell
Ceramic heating chamber
Glass mouthpiece
Heating Method: Conduction
6 Pre-Set Temperatures: 180°C, 190°C, 200°C, 210°C, 220°C, 230°C,
Heat up time: 60 sec
Adjustable Airflow
Micro USB Charging Port
Inside the box:
Utillian 421 Device
Mouthpiece Heat Shield
Packing Tool
Cleaning Brush
Replacement Screens
Micro USB Charging Cable
User Manual
Overall we are very impressed with this one and we strongly feel it's a huge improvement over their previous model. Nevertheless, both beginners and advanced users will appreciate the advantages of this vape.
Utillian has managed to bring an affordable and high-quality vaporizer to the market once again with further product development.
Where to Buy the Utillian 421 Vaporizer
The best place to buy the Utillian 421 dry herb vaporizer is from Tvape: US, Europe.
Let everyone know what you think about this vape in the comments section below!