We'd been vaping for a while and loved it. We always did it when we were relaxing at home, watching films, or hanging out in the garden, and our friends who vaped would come over to join us. We also liked to go to their places and join them, so we needed something portable enough to carry with us on a day-to-day basis. We didn't want anything that would need to be replaced within a year – and we especially didn't want any glass components, as we'd had a few breakages with glass before.
We had smoked many joints before, but they never gave us the satisfaction that we were looking for. The vapor quality from the MIGHTY+ (Plus) is amazing – it's smooth and flavorful, and we can finally say goodbye to joints for good!
The vaporizer industry is booming and there are more choices on the market than ever before. The MIGHTY+ vaporizer is one of the newer options, and it has some features that make it stand out from the crowd. It appears that the MIGHTY+ was created with vaping connoisseurs in mind who are seeking a high-quality upgrade to their regular vaping.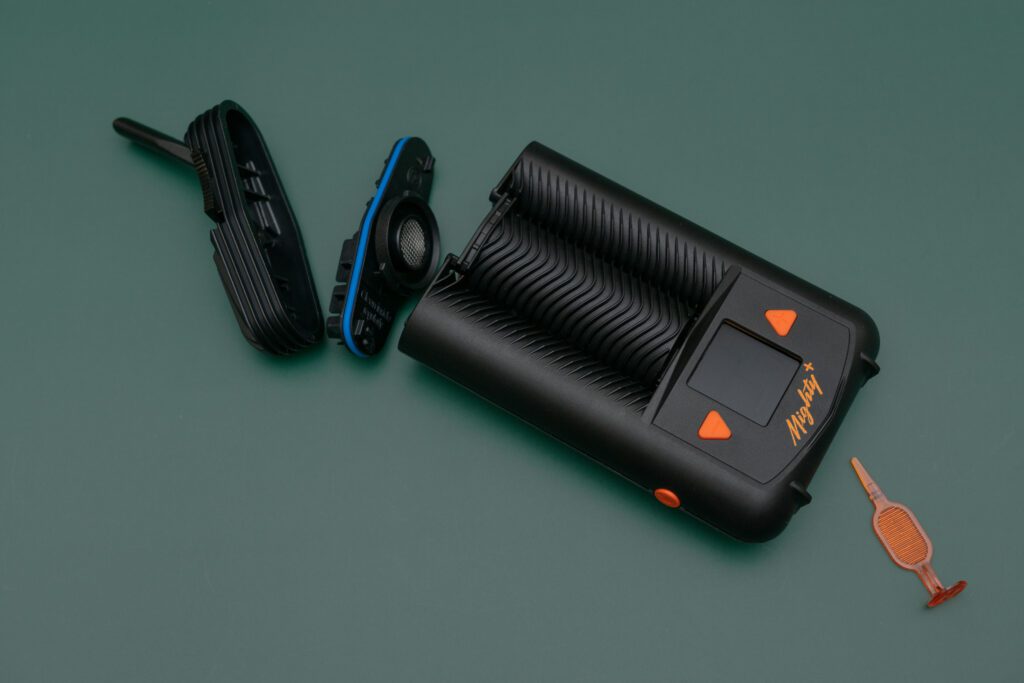 Storz & Bickel MIGHTY+ (Plus) Vaporizer Review
The first thing you'll notice about the MIGHTY+ is its size. It's a bit larger than some of the other portable vaporizers on the market, but that's because it packs a serious punch. The unit uses convection heating to deliver consistent vapor production, and it can reach temperatures up to 410°F (210°C).
We previously reviewed the Mighty and were very impressed with its performance. We still have and use the original, which works well. However, when compared to the newer version, there are several improvements. You don't need to connect it to an app either as you do with the CRAFTY+.
Given how well-liked the original Mighty vaporizer was, the updated version needed to keep up, and that's precisely what Storz & Bickel did. It turns out that Storz & Bickel had the Mighty killer we've been waiting for all along.
What Is The Difference Between the Mighty and the Mighty+ (Plus)
The Mighty vaporizer has been and continues to be, a huge hit in the world of portable vapes. Is it true that the Mighty Plus is superior to the original? What does this signify? What are users likely to experience?
The Mighty vaporizer was released in 2014 and quickly became one of the most popular vaporizers on the market. The Mighty Plus is an updated version of the original vaporizer that features a few new improvements.
At first glance, the most notable improvements to the MIGHTY+ are USB-C charging and the Ceramic Bowl. In most cases, many of the adjustments are minor.
The OLED display is also considerably improved, with clearer and easier-to-read text even in the heat of summer or total darkness.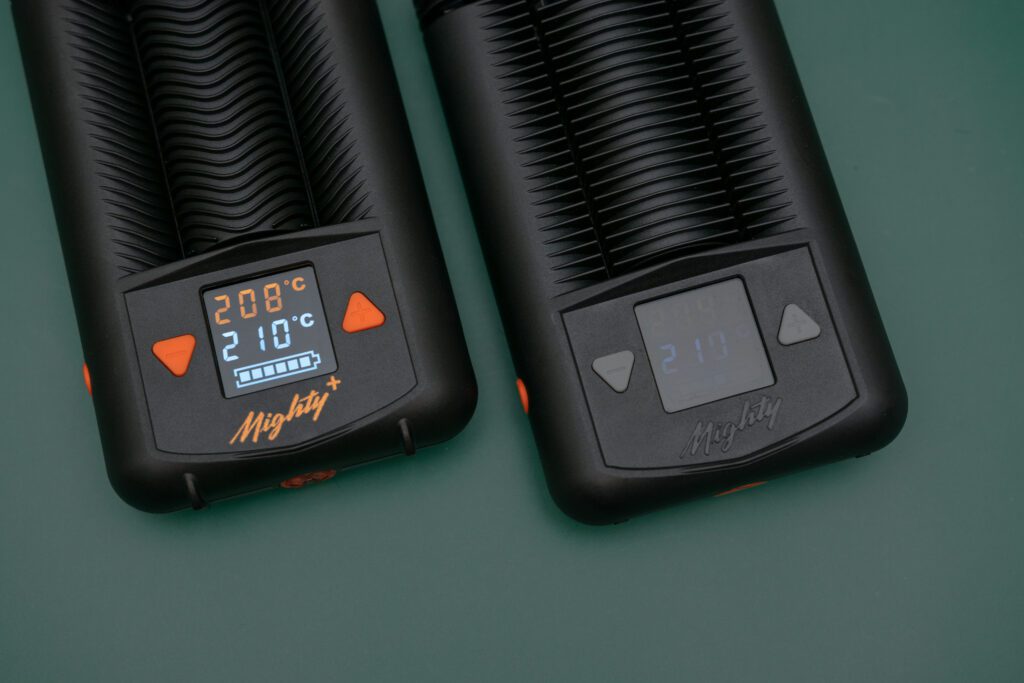 Another big change is the battery life. The MIGHTY+ vaporizer has a longer-lasting battery than the original, meaning you can vape for longer without having to recharge.
We've observed that when this device is turned on, it does a pretty good job of maintaining the set temperature. Remember that this unit has both full convection and conduction heating, so it's quite efficient even if you don't grind your herbs finely enough.
Manufacturing Quality
The same medical-grade plastics are used in the MIGHTY+'s exterior and cooling unit. The heat dissipation grooves have been transformed from straight lines to U-Shaped ones. This was seen with the CRAFTY+ redesign, which is said to dissipate even more heat away from the hand than its predecessor.
The Mighty and Crafty, on the other hand, were two of the few portable herb vaporizers that didn't get too hot to handle after multiple sessions, as occurred with other vaporizers on the market.
The plus version also has a different set of fins. The unit is supposed to stand up on its own, according to Storz & Bickel. However, they do not function and you must kickstand the plastic pick tool if you want your MIGHTY+ to stand upright.
The temperature control buttons are now orange, which makes the color of the MIGHTY+ stand out a little bit more. The name of the original was raised plastic (all black) rather than bright orange like on the new model.
The MIGHTY+ measures 5.5″H x 3.2″L x 1.2″D (140mm x 80mm x 30mm) and weighs about 230 grams, making it slightly larger than the CRAFTY+. Compared to other vapes, the Pax 3 is around 100 grams, while the Firefly 2+ comes in at around 140 grams.
UL and TÜV Certification
S&B employs a rigorous quality assurance methodology that includes both internal and external testing of their goods.
All Storz & Bickel products are fully and continually tested for quality and overall safety in houses and by third-party experts. The MIGHTY is (TUV) certified for medical use, and the MIGHTY+ is the first vaporizer to be UL certified, which is a worldwide safety standard for electronics and scientific devices. The battery, charging, electrical, and heating components of the MIGHTY+ are guaranteed safe by UL8139, which requires them to meet certain standards.
This accreditation isn't available to all vaporizers; it's a difficult process that most consumers aren't interested in pursuing. The original Mighty didn't have this accreditation, which many believe was a corporate strategy to keep the upgraded version off regulatory radars.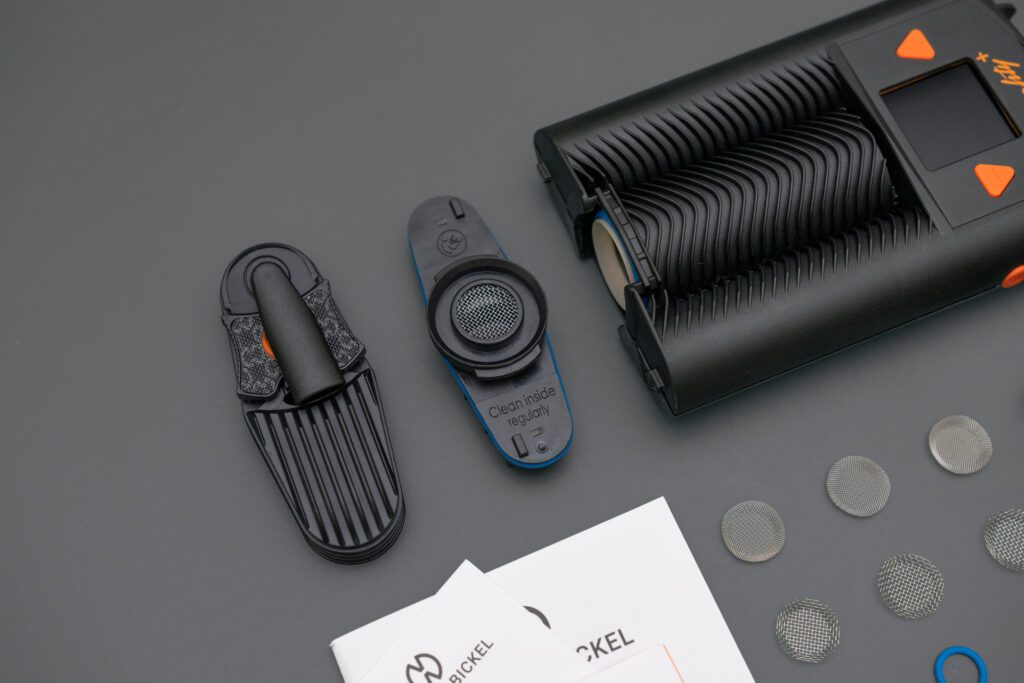 Ceramic and Coated Chamber
The MIGHTY+ got ceramic-coated chamber, just like the CRAFTY+. The original MIGHTY and CRAFTY/CRAFTY+ vaporizers utilized a stainless steel chamber that never had any issues. The new ceramic-coated chamber has greater thermal conductivity than the old Stainless steel chamber.
It's also worth noting that the ceramic-coated chamber does not affect the vapor quality or taste. This upgrade is excellent for making your chamber less prone to stain after repeated usage and easier to clean.
The size of a vaporizer oven remains the same at .25g.
Temperature Settings
The controls are simple to use, with Storz & Bickel retaining the basic switches for adjusting the heating intensity.
There's a brand-new double super-boost temperature function that instantly raises the MIGHTY+ temperature by 59°F/15°C by clicking the power button three times in a row. This setting is ideal for enthusiasts that like high-temperature dry herb or concentrate draws since each pull will produce thicker vapor and a greater "throat feel." It's not for the faint of heart, so it's not for everyone.
Use SuperBoost to make your sessions personal and pleasurable, and if pass-through charging is important to you, get a USB-C Supercharger from S&B, which delivers 15V/3A.
At any time during your vape session, you may adjust the temperature to any degree between 105°F (40°C) and 410°F (210°C). It's convenient to have that level of control for different types of cannabis or just vaping at various times of the day. Varying temperatures produce varied effects.
This gadget is designed for old-school and seasoned smokers due to this fact.
Also, another notable change is the decrease in heating time, which has been reduced from 70-80 seconds for the original to just 60 seconds for the Plus, but it's still slower than the competition.
That's because when you heat your cannabis, it's important to do it slowly. If you heat it too quickly, the vapor quality will be bad. This is because the active ingredients in cannabis need time to heat up properly and release their vapor. If you rush the process, you'll end up with a harsh, unpleasant taste in your mouth. So take your time and let the MIGHTY+ do its job!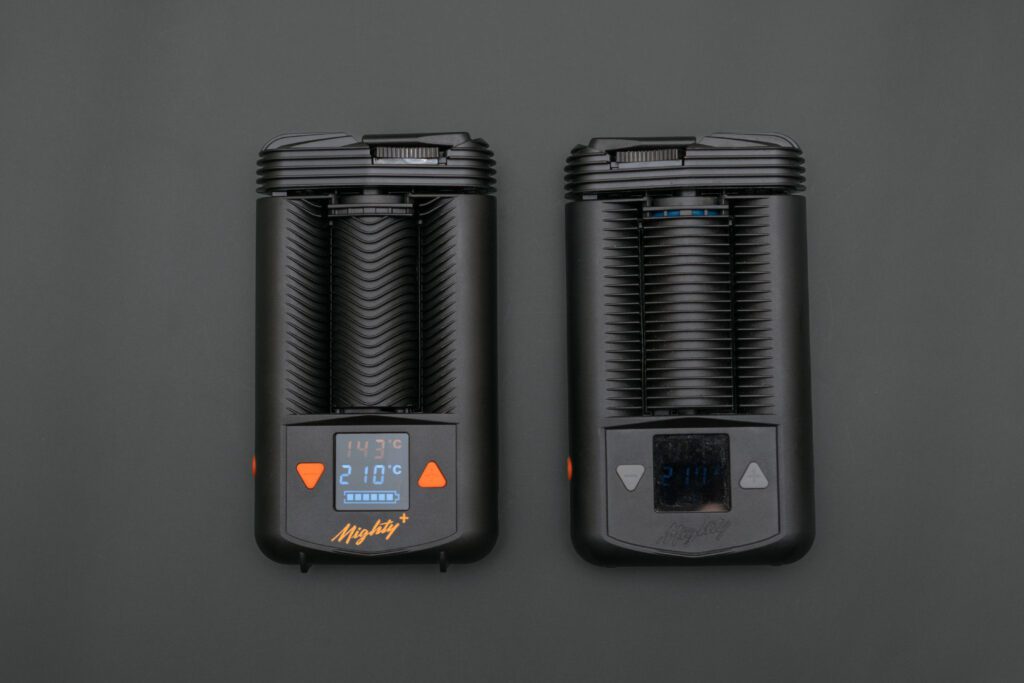 Hybrid Conduction / Convection System
The MIGHTY+ still uses a hybrid of conduction and convection. Convection is when hot air passes through your herbs to extract vapor. Conduction is when your herbs sit on a hot surface and vaporize that way.
The use of both conduction and convection allows the user to get great-tasting clouds while using less herb than other methods require. With some practice, you can find the sweet spot for your vaping style and material. We've found that most people start at lower temperatures with dry herbs and work their way up as needed.
The improved heat-up speeds of dry herbs, along with the ceramic-coated heating chamber, have made the Mighty Plus an excellent example of what hybrid heating systems are capable of. Every hit is a winner, and the clouds are fantastic.
Improved Circuitry
The original Mighty used a rod-style heating element, however, the updated version uses an improved circuit board and a smaller one. This is because microchips have advanced in 2021 over 2014 when the original Mighty was first released.
Storz & Bickel is known for producing exceptional vapor, and its products have a solid reputation.
The vapor quality from the Mighty Plus is excellent. The hybrid conduction/convection system ensures that every hit is a winner, and the clouds are fantastic. The ceramic-coated chamber does not affect the vapor quality or taste, making it a great upgrade for those who want an easy-to-clean chamber.
The quality of the vapor from both models is equal, with no distinction between them.
It's almost hard to believe how piney and silky the vapor from the MIGHTY+ is. Another advantage is that the quality of the vapor does not deteriorate throughout use. After 5 or 6 draws, with certain portable vapes, the taste and texture of your cannabis will significantly drop. While yes, by drawing 10 or so, the vapor from the MIGHTY+ will not be as nice as it was at first, it is still far superior to all other competitors in terms of consistency and overall quality.
Battery Life
The most significant problem with most portable vaporizers is charging. Many brands offer false battery and charge timings to entice customers.
The Mighty was capable of operating for only 30 minutes on a full charge, depending on your session length. The Plus model has two big lithium-ion batteries and may last 60 to 90 minutes, which is a significant increase. This vaporizer's longer battery life makes it ideal for camping and other outdoor sports activities. Although it's bulky, the vaporizer is still small enough to carry in your pocket or purse if you want to bring it with you somewhere.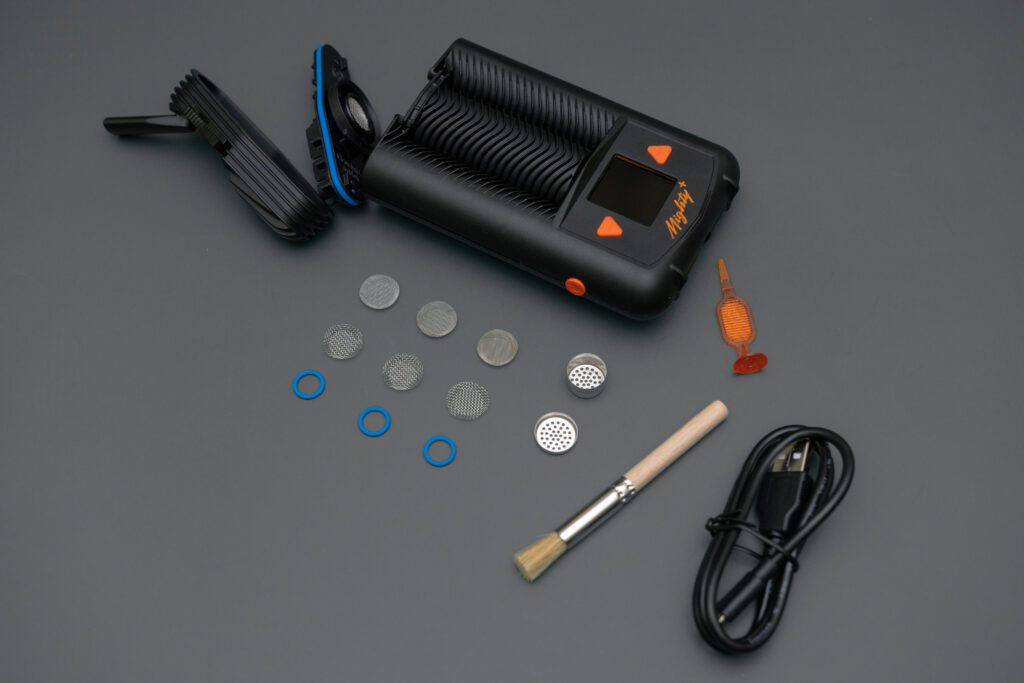 What comes in the box?
You can expect Storz and Bickel to continue to offer their products with more components than most other brands. Storz and Bickel want you to be able to keep your vape in good working order, so they provide everything you'll need to maintain it properly.
The Mighty Plus Vaporizer
3x Chamber Screens
3x Cooling Unit Screens
3x Base O-Rings
Pick & Pack Tool
Sample Dosing Capsule
Cleaning Brush
x1 USB-C Cable
Instruction Manual
The Crafty Liquid Pads are being phased out, just like the original. Storz & Bickel is trying to avoid any connection between their vaporizers and liquids in the current political climate when vape bans and new regulations emerge from nowhere.
Warranty
The company has also improved safety with the newest version, including a two-year warranty by default, as well as an extra year of protection for signing up for it, as long as the item is a genuine Storz and Bickel product.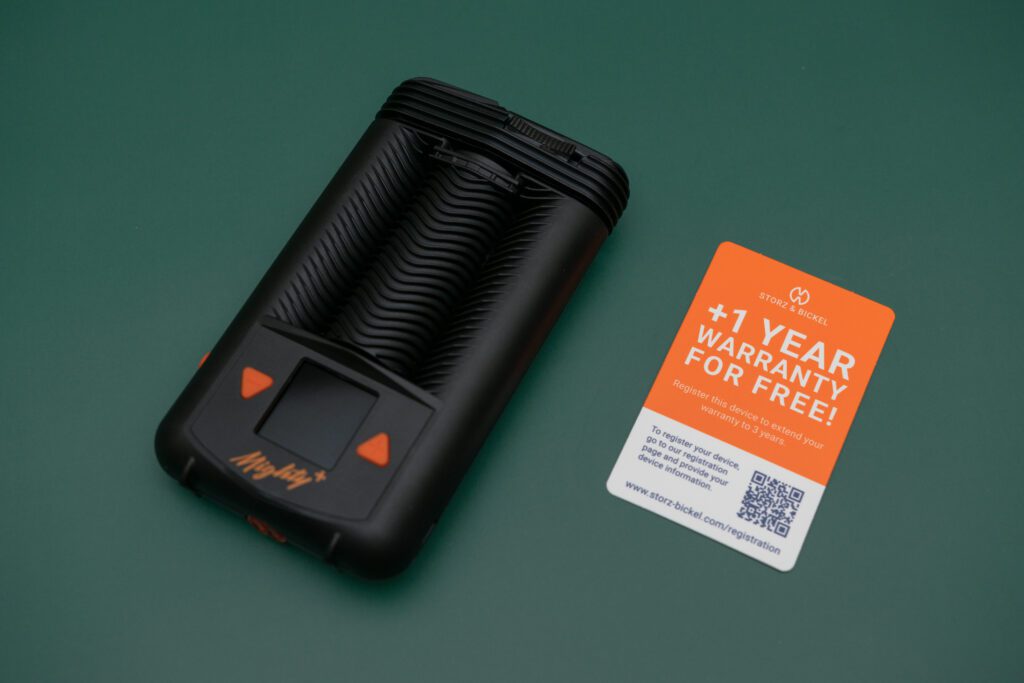 Our Verdict on the Mighty+ Vaporizer
Overall, we're impressed by Storz and Bickel's upgrades to the new Mighty Plus. This vape is a great option for those looking for a powerful and reliable vaporizer.
Many of the desired improvements have been realized, making this vape one of the greatest portable vaporizing experiences available with very little fuss.
You can pick up the Mighty+ directly from Storz and Bickel, or through our friends at TVape (UK – Germany, France, Vapo-City).
If you have any queries about the Mighty+, Crafty+, or any other vaporizer, please leave a remark below. Please like and share this post if you found it useful. Also, please check out our Mighty, Crafty or Crafty+ reviews, or browse for more dry herb vaporizers reviews if you are still undecided.