The vape industry has tremendously evolved during the past decade in the United States, Canada and Central Europe. In Europe, many patients use cannabis vaporizers as a treatment for a variety of medical conditions. And for that reason, we decided to take a look at one of the industry's classics. In our Storz and Bickel Mighty vaporizer review, we aim to provide some answers for health-conscious people and why this vape has proven to be an effective instrument for the consumption of cannabis and other medicinal herbs.
There are several options out there when searching for the best flower vape on the market, but only one has proven to be the true winner. The Mighty vaporizer ranks among the huge number of portable vaporizers currently available on the market and has easily held dominion for more than a decade.
Storz and Bickel Company
After our first review about the Crafty vaporizer, the smaller version of Mighty, Storz and Bickel hardly needs another introduction. Over the years, they have carefully cultivated a spotless reputation for technological advancement, design innovation, and purposeful craftsmanship that reach a medical-grade level of perfection. There is no surprise that they made the first medical certified vaporizers in the world. Plastic does have a bad name in general when it comes to health but the plastic used in the MIGHTY gets advertised as 100% food-safe and heat-resistant.
The Mighty vaporizer
The Mighty is bigger than the Crafty or Crafty Plus and is known for its user-friendliness, longevity and absolute durability. It can survive everything from an arduous hike to an accidental drop with ease.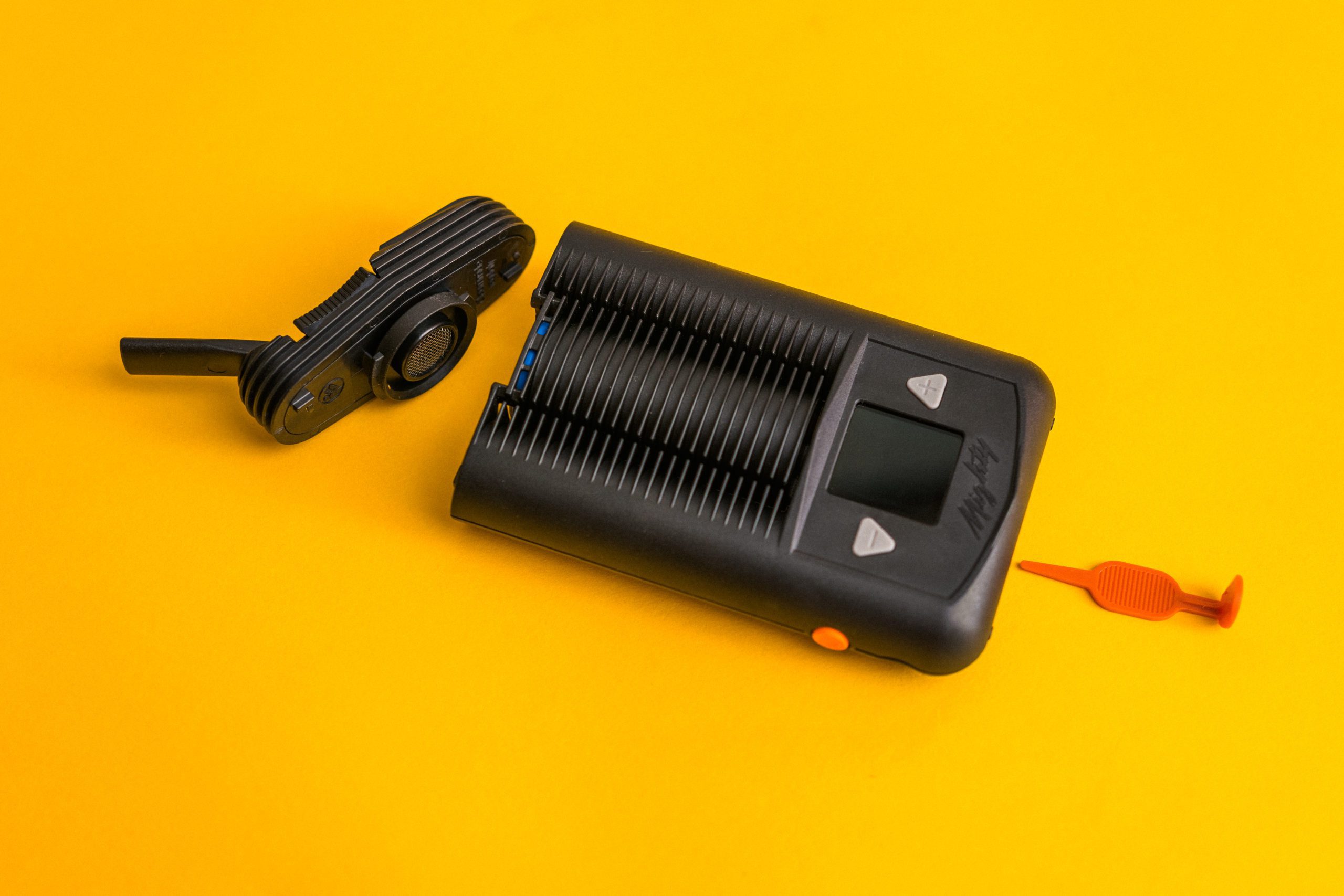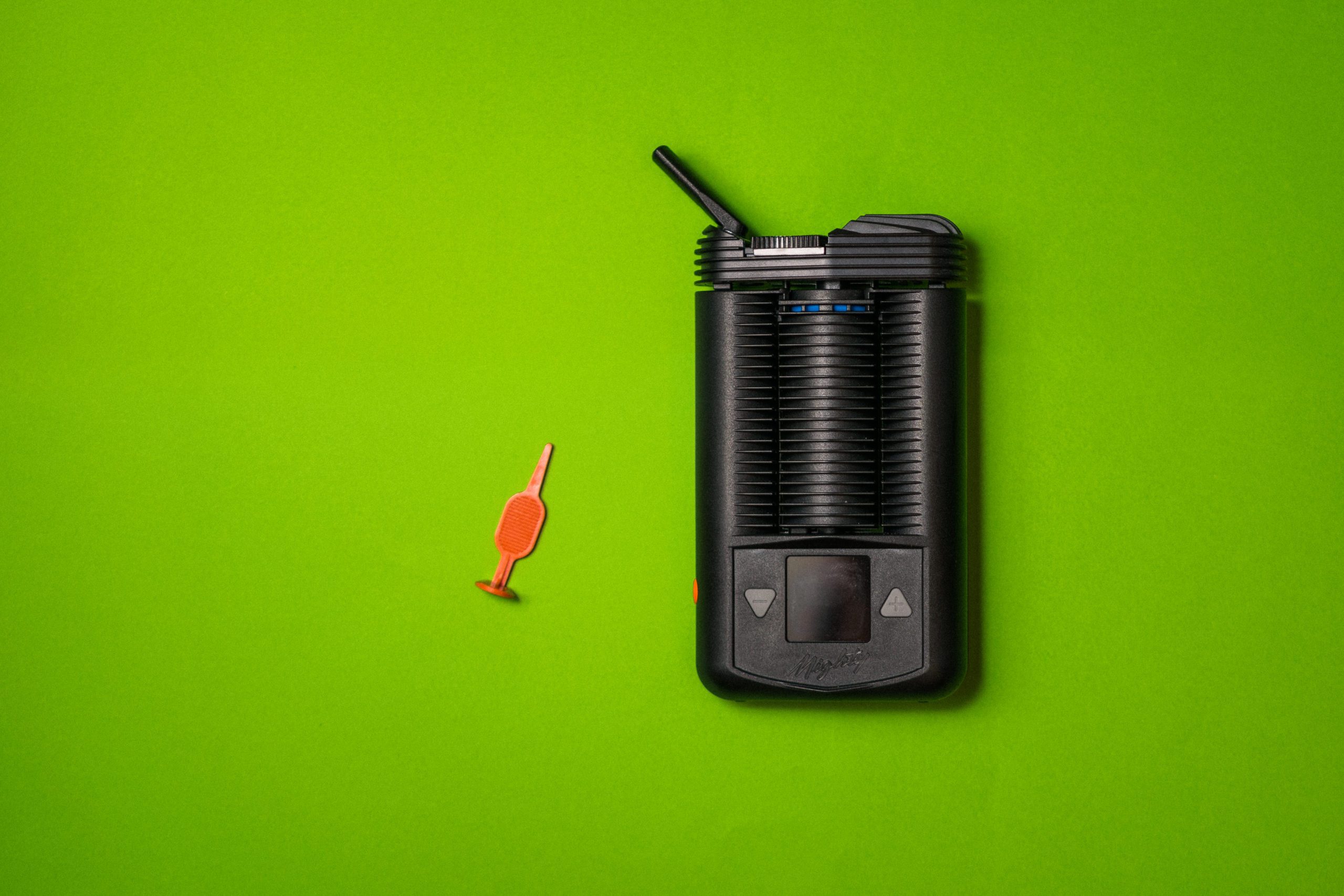 The major differences between the Crafty and Mighty are the average battery life, size, a slightly larger cooling unit on top and the precise temperature control with its LED display. In this category, the Mighty's score is particularly strong.
It has two high-performing lithium batteries separated from the heating chamber to ensure protection, lasting for 90 minutes of continuous use on a single battery charge and takes 2 hours to initially charge using a standard round power plug, rather than USB. There is no way to charge this via USB cable like most of the competition. The integrated auto shut-off timer of 1 minute helps you conserve herb and save battery in case you forget to turn it off.
The Mighty vaporizer simply isn't as portable or discrete as the Crafty, Davinci, Arizer Solo II or Utillian, but it fits in most hands comfortably.
The flavor is very high quality
It's German. When it comes to taste, the Mighty has been designed to produce the best flower vapor quality. It uses a patented combination of hot air convection heating and conduction (direct heating) in order to achieve the best vaporization from the very first draw.
Another benefit of this vape is that it is technically an aromatherapy device and is compatible with dry flowers and liquids. You can transition easily to wax and concentrate use by utilizing the concentrate pad included in the box.
The cooling unit up top keeps the vapor smooth, cold, light and satisfying at even the highest temperatures.
Temperature and Heating system
The Mighty vaporizer uses both a conduction and convection heating method, also known as a hybrid. While there are many studies showing the many health benefits of vaping cannabis, most vapes still continue to burn the material, which defeats the purpose of vaping. This will never happen with the precise temperature control of the Mighty, because it allows cannabis patients to achieve the relaxing and healing effects of cannabis without the downsides that come with the smoking of herb.
You can select any temperature from 105°F (40°C) – 410°F (210°C) at any point during your vape session. It's good to have the precise temperature control for different types of herbs or just vaping at different points in the day. With different temps you can experience different physical and psychoactive effects of your weed.
Once it reaches the desired temperature, the Mighty responds with a vibration to let you know it is ready so you can now enjoy your vapor. If you want to find the best sweet spot, 320°F (160°C) is a good place to start to enjoy the high from THC. Starting at the lower temperature ranges is the most efficient way to vape your herb. You can increase up by 5-10 degrees for each heating session to extract more cannabinoids from your flower.
The Might has also a memory system which records your previous temperature setting. The large bowl makes it one of the best portable vapes for those long and intensive sessions to share with friends.
Accessories
The Mighty Vaporizer comes with many tools and accessories that are quite standard. One of the coolest accessories is the "Filling Aid" special container for your herb, which connects easily and effortlessly to the top of the unit and allows you to pack the perfect bowl every time without any mess. It can be difficult to load some portable vaporizers without a funnel, so Storz & Bickel came up with this idea for easy refilling. The loading experience is covered below in "User friendliness".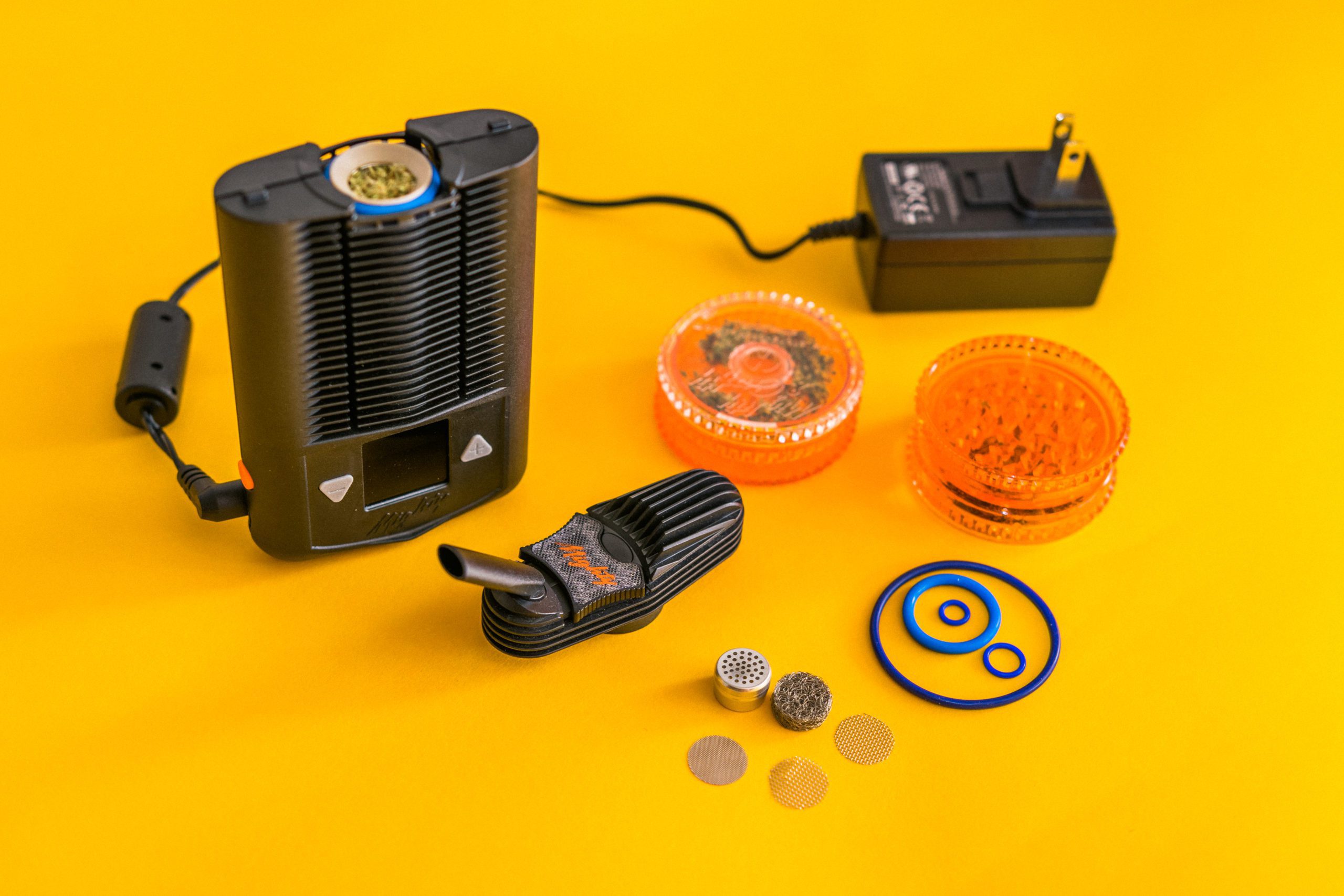 The "dosing-capsules" are small canisters that can be pre-filled and loaded into the oven for micro-dosing for those who want to achieve lighter effects. Also, makes reloading your vape on the go an absolute doddle and they will help you with keeping your heating chamber clean. Inside the box, the Mighty includes only one capsule, but a magazine with eight capsules is available as well.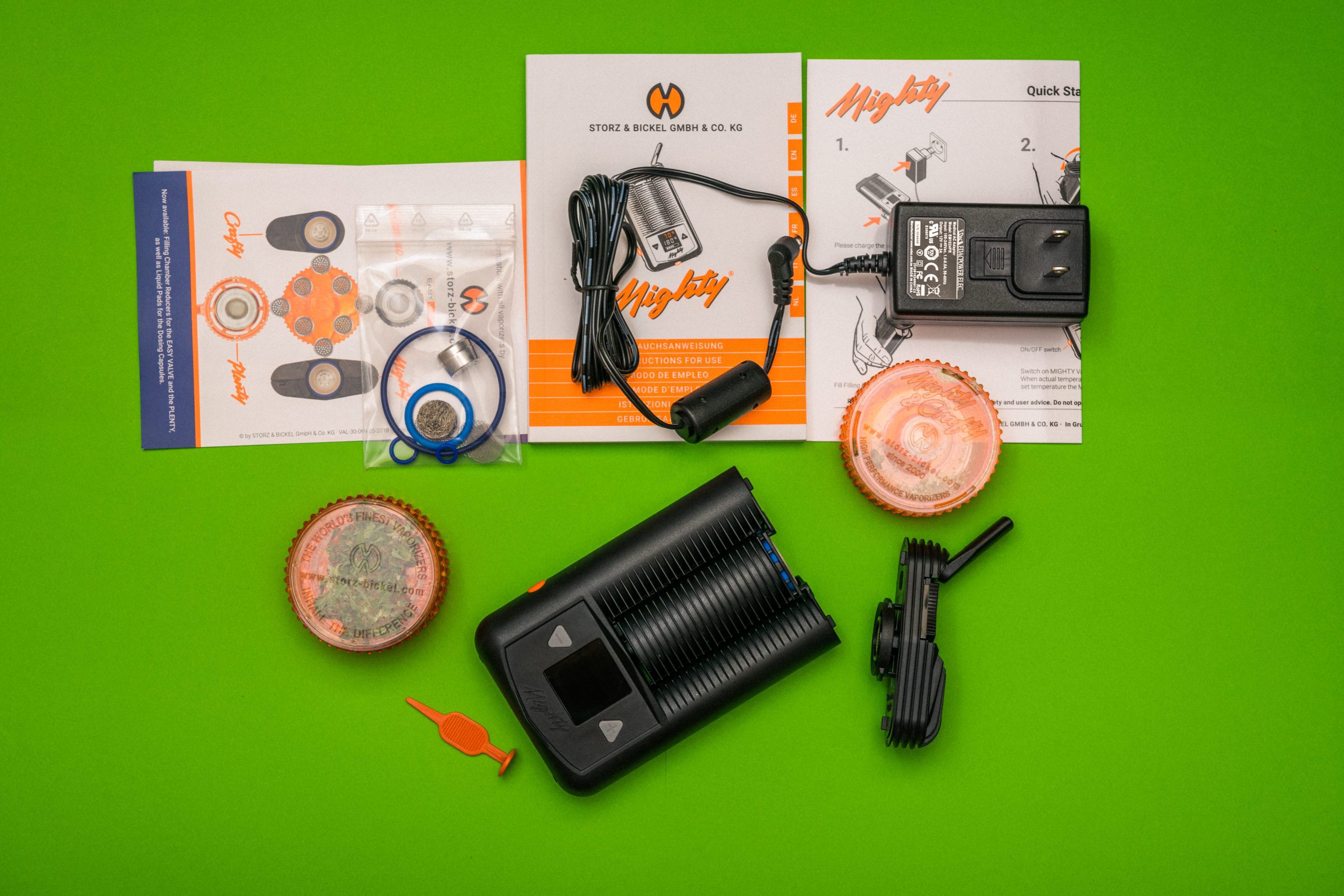 The Mighty comes with a round liquid pad that fits nicely into the oven, and it can also take up the extra space in the oven if you don't have enough herb to load the chamber. The box includes everything you need to experience stellar vaping.
While many accessories are not a bonus for some, a lot of vapers will enjoy trying them out. You get everything you possibly need to vape your herb, including a grinder, replacement strainers and a cleaning brush.
What's Inside the Box:
1 x MIGHTY Vaporizer
1 x Power Adapter
1 x Mouthpiece
1 x Liquid Pad
3 x Normal Screens
1 x Cleaning Brush
1 x Filling Aid
1 x Set of Spare Seal Rings
1 x Storz & Bickel Grinder
1 x User Manual
Cleaning and Maintenance
There is zero learning curve involved with this vaporizer. The Mighty is incredibly easy to clean after each use with the cleaning brush that it comes with. Additionally, you can use alcohol swabs and Q-tips for a deep cleaning after every twenty uses to keep your Mighty performing optimally.
All of its parts are easy to remove for cleaning and you can buy replacements for all parts from Storz and Bickel website.
Conclusion
Overall, the rather high price of the Mighty is legitimated by its durability and quality, it's easy to use, easy to maintain, and one of the most consistent vaporizers we have reviewed capable of producing abundant vapor. We say go for it. You won't be disappointed if you are serious about vaping.
We recommend you check out the official website of our partners to learn more about one of our favorite vape devices if you are looking to purchase your own Mighty.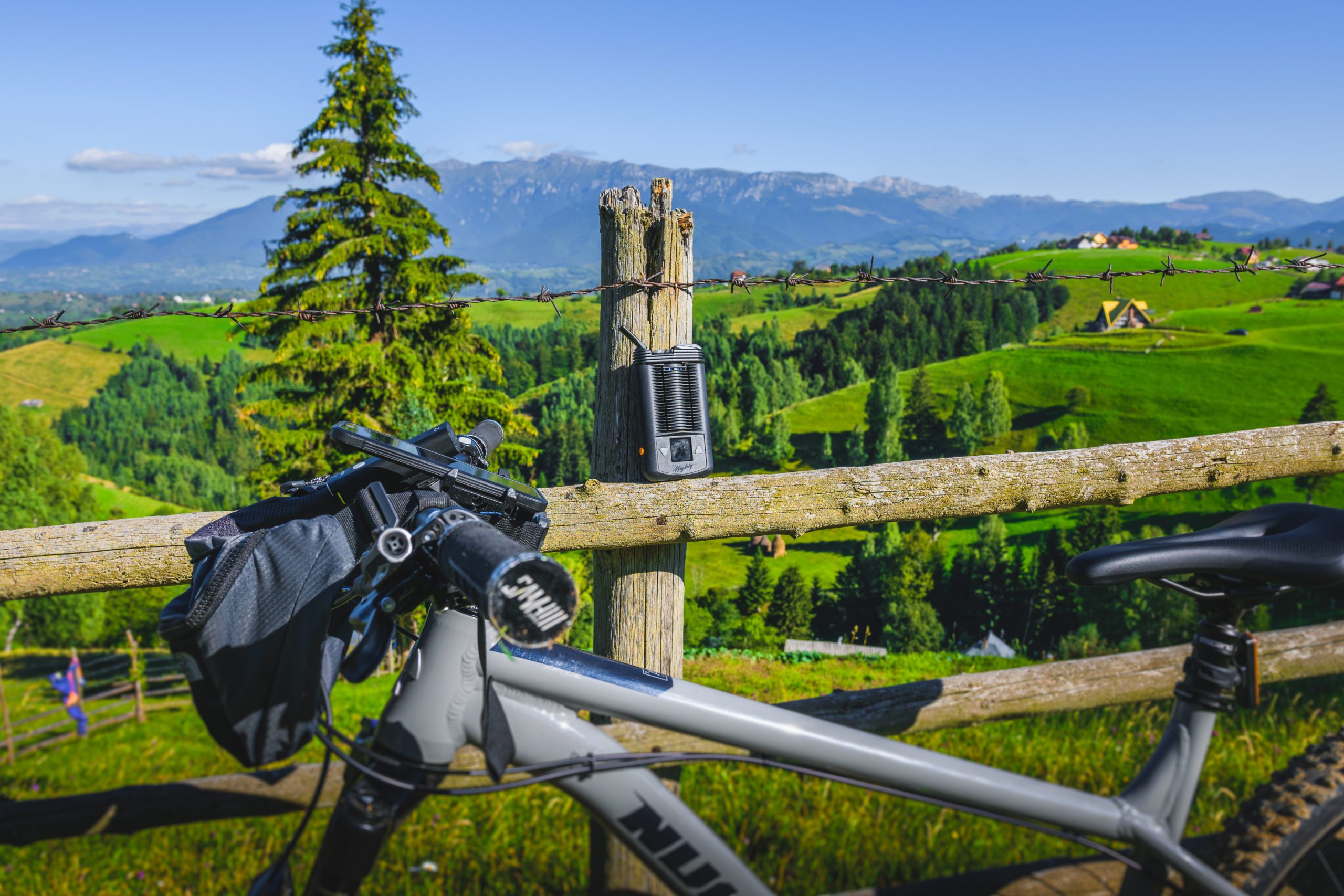 Where to buy the MIGHTY Vaporizer:
The best place to buy the Storz and Bickel Mighty vaporizer is from Tvape: US, Europe.
Let everyone know what you think about this vape in the comments section below!