AtmosRX is constantly working to improve its products and the Atmos Jump is their budget dry herb vape pen. If you're thinking about getting an Atmos Jump, we'll try to cover everything you need to know in this review.
Finding a quality vaporizer without spending hundreds of dollars is one of the most difficult challenges for anyone looking to buy a vaporizer on a budget. Premium brands like Pax or Storz and Bickel produce excellent vaporizers, but they are extremely costly.
The Atmos Jump Vaporizer
The Atmos Jump is a convection vaporizer designed for dry herbs. The device is simple to use, with no learning curve or technological features that stand out.
The Jump is slim and elegant, with an anodized heating chamber and no exposed coils. The Jump has a stylish military-grade carbon fiber housing that is extremely durable, making it a great vape for on-the-go use.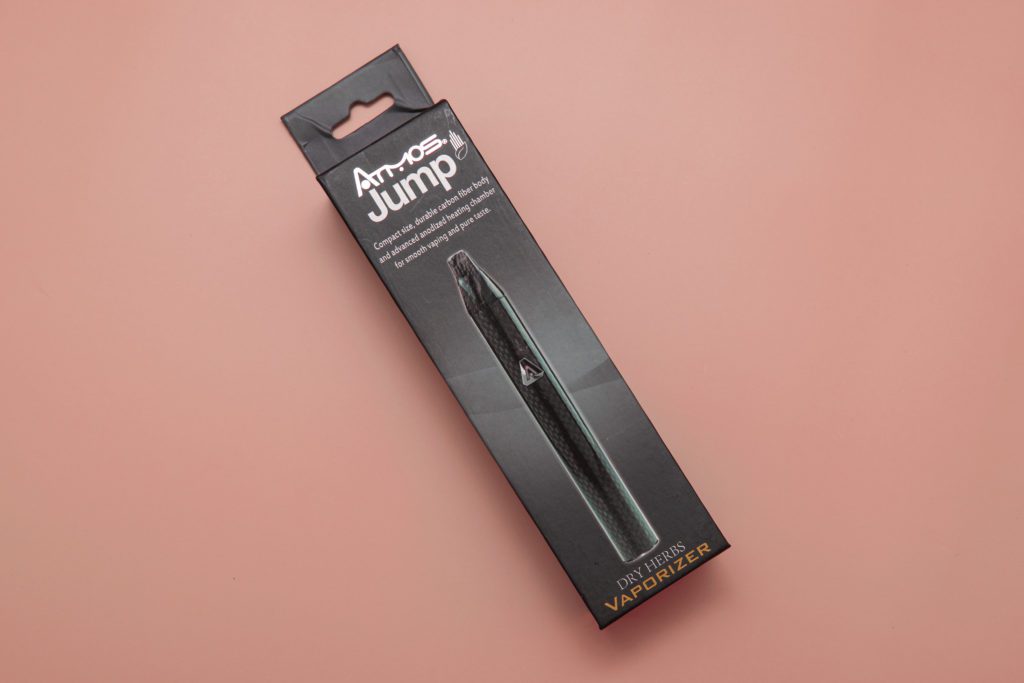 The Atmos Jump's discreteness is one of the best things we've noticed about it. Looking like a nicotine vaporizer is the cheat code for stealth with vape pens and this one takes full advantage of it.
Heating Chamber
With only one power button and just one temperature setting (395°F / 200°C), this device is one of the easiest vaporizers to use. The Jump heats up incredibly quickly (10 seconds), thanks to its single temperature setting. The pen shape distributes heat better than a box-shaped vape, so the device never gets hot to the touch.
The Jump is best suited for personal use or sharing with a friend due to its compact design and small chamber. The chamber heats up quickly and holds 0.2 to 0.3 grams of dry herbs, but that's still enough for up to 8-10 good puffs.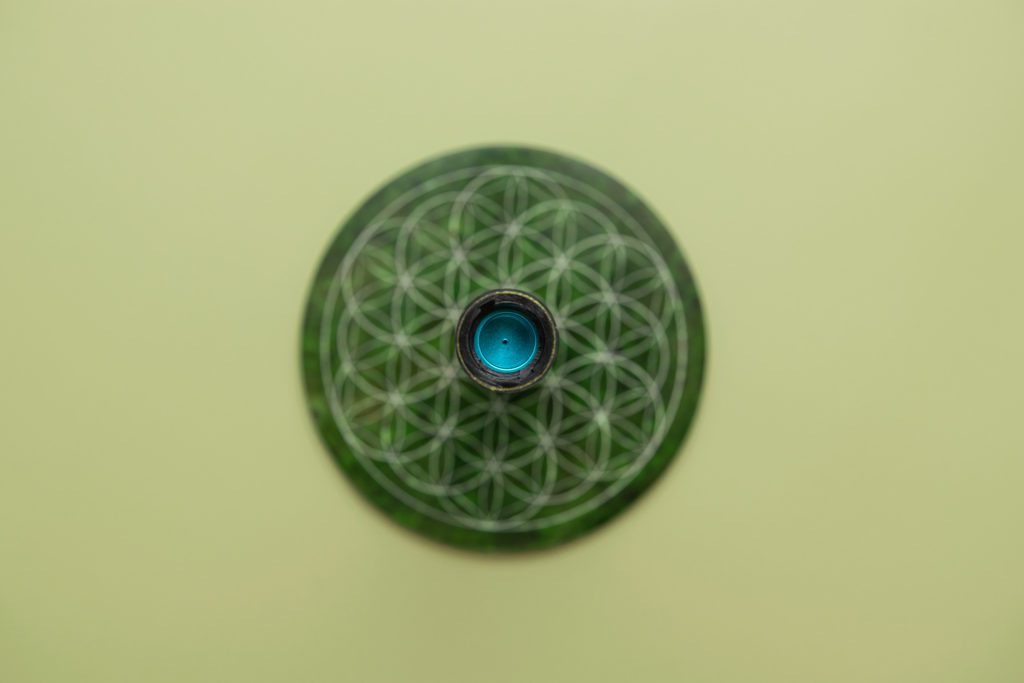 However, the Jump vaporizer is unable to use concentrates on its own. In a pinch, mixing your wax or resin between layers of herb works, but for frequent use of both herb and wax, we recommend something like the Firefly 2+.
Vapor Quality
The flavor is enjoyable and you can get decent clouds of vapor with just one temperature setting, but it fades too quickly to allow you to fully appreciate it.
Of course, dense clouds will not appear in your 9th or 10th puff, but because it is a convection unit, it poses little or no risk of burning and delivers good vapor quality.
Battery
The Atmos Jump is powered by an internal battery with a capacity of 1200mAh. According to our tests, you can expect 30 minutes of continuous use.
The fact that the pen shuts down after 5 minutes to save battery life is what makes it so special. If you keep your sessions to 5-minute cycles, the battery can easily get you through a day of getting stoned once every few hours if you need to get really stoned every day.
Additional information
Dry Herb/Wax: Dry herb
Heating Technology: Conduction
Display: LED
Heating Time: 30 Seconds
Temperature control: None
Temperature range: 395°F / 200°C
Battery Power: 1200mAh lithium-ion battery
Charge Time: 3 hours
Automatic Shut-off: Yes
Dimensions: 5.75 x 0.7 x 0.7 in. / 14.6 x 1.8 x 1.8 cm.
Chamber: Steel, plastic.
Weight: 100g
TVape shows you the Atmos Jump and gives you a brief review and tutorial.
In the box:
Atmos Jump
Packing tool
Cleaning brush
Micro-USB charger
User manual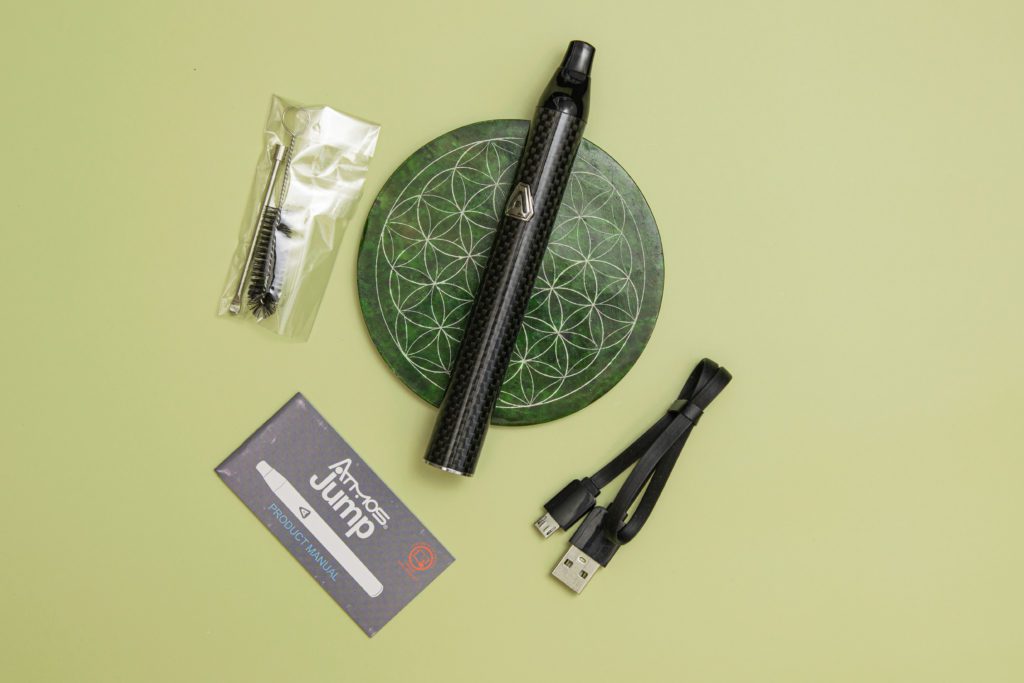 To put it another way, if you're a vape fanatic, the Atmos Jump is unlikely to surprise you, because temperature controls and other options for customizing your vaping experience are not available.
Overall, the Atmos Jump is one of the most affordable dry herb vaporizers on the market, making it a good choice for beginners. If you're looking for a good dry herb vape pen, the Atmos Jump could be the right fit. So go ahead and give Atmos Jump a try, and enjoy your flavorful vaping sessions.
We recommend purchasing at TVape online store (US – France).
Here is a ranking of the best weed vaporizers out there which you can check out after you read this post.
If you have questions about the Atmos Jump vaporizer, drop us a comment below.