The LITL 1 is extremely small, very simple and straight forward budget dry herb vaporizer. Our first impression was that the size and shape is perfect for busy vapers. This little vape fits perfectly in any pocket because it is the perfect size to take on an adventure, one of the smaller vaporizers we've seen for sure.
Certainly there are some vaporizers on the market that can be hard for some users to operate with many temperature settings and with a variety of modifications that can enhance the quality of the flavors. Most people look into a product that can deliver a quite standard experience and a push-button operation when buying their first vaporizer.
LITL 1 it's extremely easy to use with just one button on the front, but it also doesn't give users any temperature options other than 215° C (so no guesswork needed there). We wouldn't expect precise temperature control for the price, but a couple of temperature options would be nice.
The unit features a glass mouthpiece, haptic feedback and a ceramic chamber. At the bottom of the device there's an airflow control switch which either restricts or opens up the airway.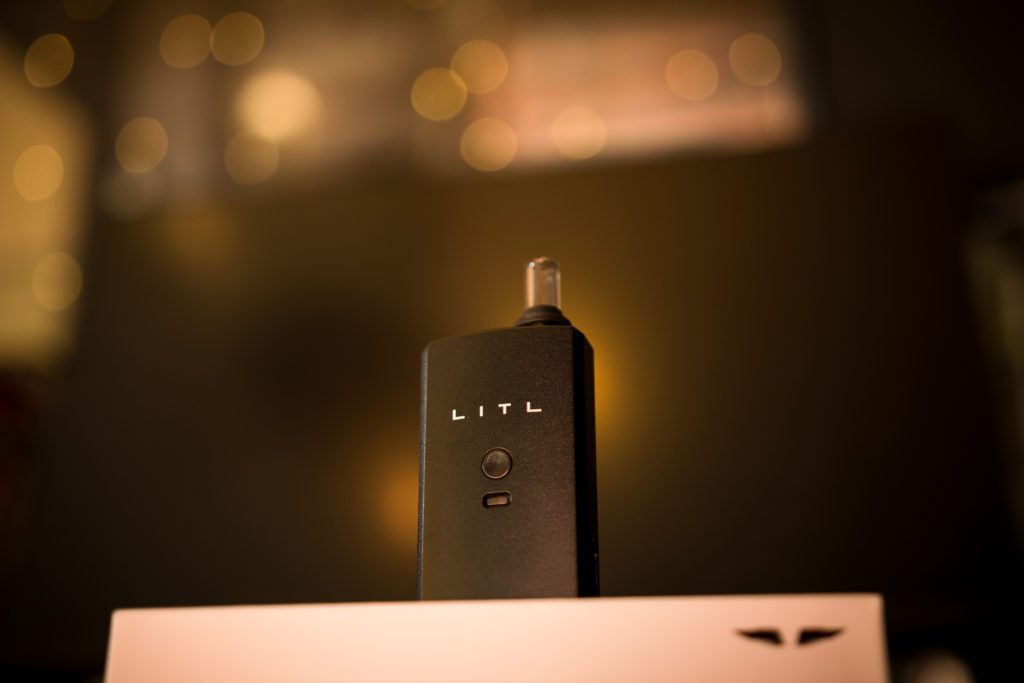 The mouthpiece is made from glass and it can be disassembled for cleaning in several parts. The glass mouthpiece is so small that it doesn't pose breakage risk.
The conduction heating chamber is made of ceramic with a screen made from stainless steel and the device will heat up in about 45 seconds. The only downside is the battery will last only 20 to 25 minutes per charge and it doesn't come with any packing or cleaning accessories. It also has an auto shutoff feature if you forget to turn it off to save some energy in case you forget the vape on.
What's in the Box:
LITL One vaporizer
USB Cable
User Guide
Features:
Fast Heat Up Time
Glass Mouthpiece
Super Portable and Compact
Ceramic Chamber
Haptic Feedback
Adjustable Airflow
Auto-Shutoff
Great Value
The vapor quality of the LITL 1 vaporizer impressed us. This is certainly helped by the isolated airway and glass mouthpiece. The majority of rips we took were good and smooth for what this device offers, but from such a small vaporizer, you shouldn't expect huge vapor production.
Quality manufacturing is always important and the LITL 1 does feels pretty solid and the straight forward design is great for beginners. The device contains an anodized aluminum shell with a built in 850 mAh battery and can be charged via the micro USB. Before using the vape for the first time, make sure that the device is fully charged.
If you're looking to suggest an inexpensive vaporizer to a friend, especially one who is new to vaping, we would recommend the LITL 1 vaporizer.
Where to Buy the LITL 1 Vaporizer
You can buy the LITL 1 dry herb vaporizer is from Tvape: US, Europe.
What do you think about the LITL 1 vaporizer? Let everyone know what you think about this vape in the comments section below!