A major upgrade has been made in DaVinci's latest vaporizer iteration of its iconic IQ that was released late in 2016, and lovers of cannabis should take note. The DaVinci IQ vaporizer has already been introduced to you by us and you may mistake the new Davinci IQ2 for their predecessor on the first sight. 
Let's begin with saying that the IQ2 is a breeze to use. The newest model is a potent handheld dual-use conduction vaporizer with some unique features that can handle both herbs and extracts.
The combination of perfect design, futuristic technologies and innovation creates a vaporizer that works as perfectly as it looks.
The DaVinci IQ2
This is a clever and well-designed vaporizer which produces one of the highest-quality vaporizing experiences on the market. You can control your temperature down to the degree, monitor your consumption, and it has an adjustable zirconia "pearl" that allows you to change the oven volume on the fly. The DaVinci IQ2 is a high-end vaporizer for those of us who enjoy a high level of luxury in our lives.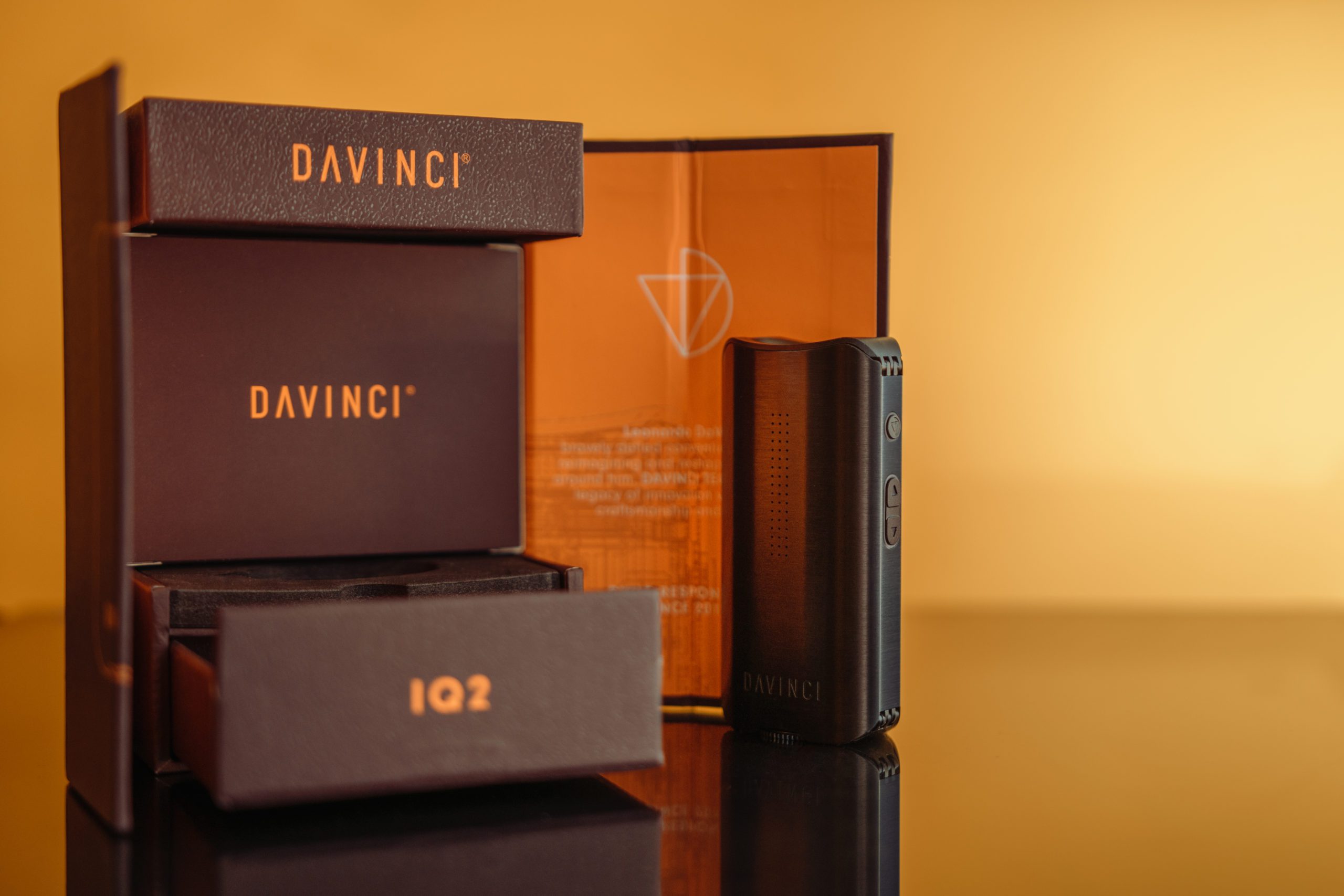 What is new and improved?
Adjustable Air Flow: Draws are 31% smoother, and vapor control is more focused.
Clean First Technology: The IQ2 is built with medical-grade components, minimizing unwanted off-gassing, just like the other DaVinci vaporizers. To ensure unprecedented purity and flavor, the airtight, all-ceramic air path is engineered with zirconia and a glass-lined oven.
Improved Pearl: If you are looking to use the vaporizer for micro-dosing or for solo sessions, the IQ2 comes with a better "Pearl" version, which extends further by 50% to reduce the oven volume.
In App & On Device Dosage Calculation: This is the first unit that calculates dosage on the fly. The algorithm of the DaVinci calculates the quantity of active compounds released by the IQ2 per draw and cumulatively per session based on the potency and the amount of weed in the oven.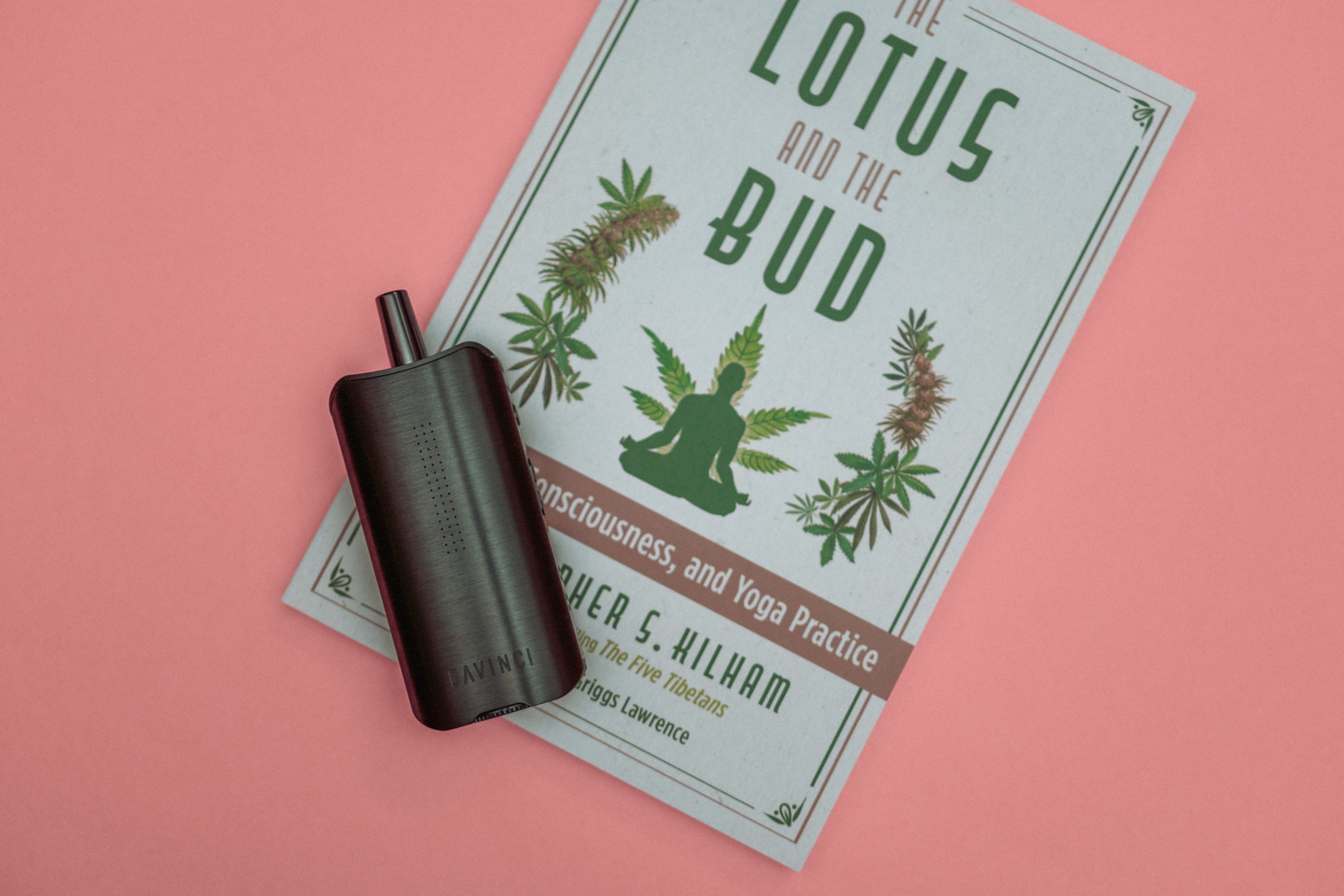 When consuming mind-altering substances, it's always useful to know how much will get into your endocannabinoid system so you can adjust your dosage during your next vaping sessions. This is why DaVinci added an on-device THC and CBD calculator to the IQ2 and the accompanying mobile app.
Now with the DaVinci IQ2, cannabis users will have a more accurate idea of how much THC they are consuming, and medical patients will have more knowledge and control over their medicine.
Great building material and a stylish look
Sleek and sophisticated, but let's be honest. Not all vaporizers on the market are as stylish and fashionable as the DaVinci IQ2. However, superficial beauty is meaningless if the soul is devoid of substance. It's what's inside that counts, and the insides of the IQ2 are all premium materials.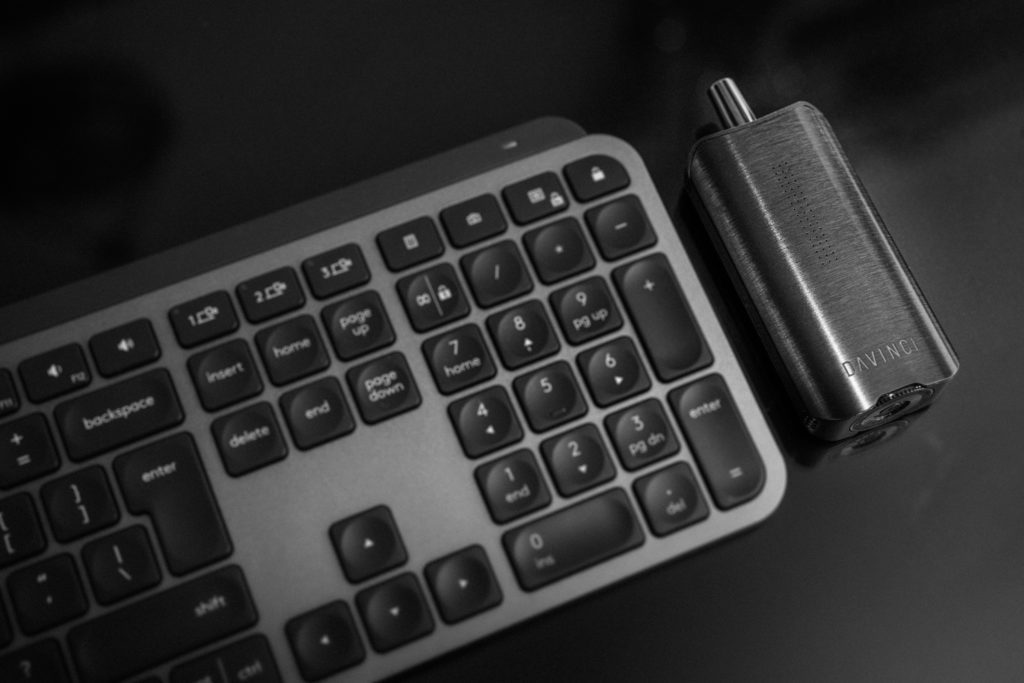 The flavor produced by the DaVinci IQ2
The vapor is dense and flavorful with minimal draw resistance, and the extended mouthpiece is doing a great job in cooling down the vapor.
When it comes to flavor, the IQ2's zirconia vapor path, which also serves as a "Flavor Chamber", can help maintain the flavor throughout a complete vaping session, but you can also introduce other herbs to the experience.
On the IQ2, DaVinci uses a "Smart Path" temperature mode as the default setting, providing 4 different modes to adjust the oven temperature dynamically as the session progresses. The IQ2 will gradually increase the heat level of ~20 degrees F during the 8-minute session.
Smart Path is a cool feature, but the IQ2 vaporizer also allows users to set a precise temperature between 350°F (177°C) – 430°F (221°C). There is also a "Boost Mode" which rises the temperature temporarily to 430°F (221°C).
Specifications of the IQ2
Dimensions: 4.5 x 9.2 x 2.5 cm
Weight: 159g
Heating technique: Conduction
Automatic switch-off: Yes
Compatibility: Dry Herbs + Concentrates
Heat-up time: 30-60 Seconds
Adjustable temperature: Single degree + App Control
Temperature range: 100°F (38°C) – 430°F (221°C)
Replaceable battery: Yes (18650)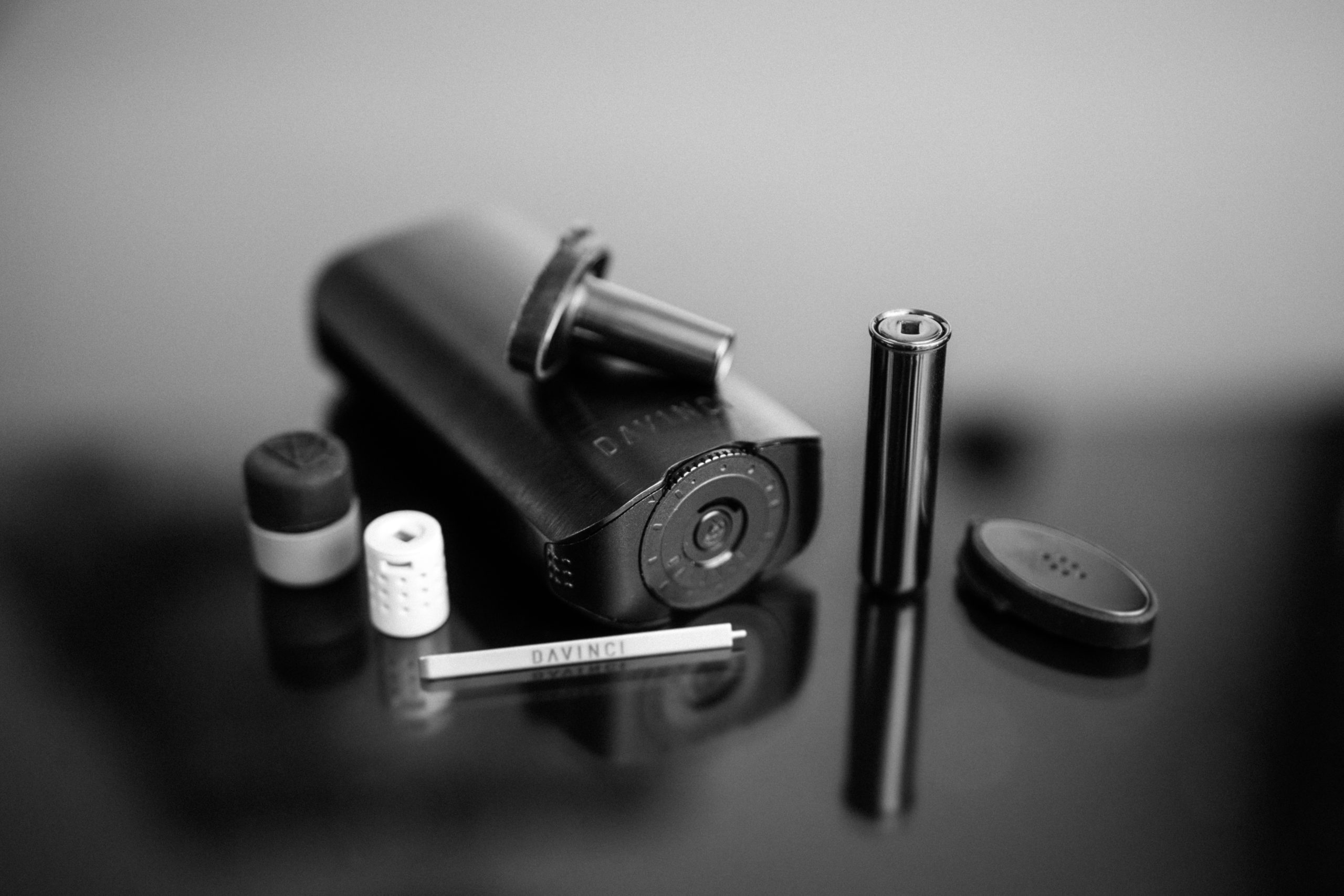 In the box:
Davinci IQ 2 Vaporizer
Davinci IQ 2 Kit
Dosage Pad & Ceramic Extract Disc
Flat & Extended mouthpiece
Alcohol wipes, Organic cotton pads
Charging cable, Manual, Spare pick tool
Dosage Pad
The dosage pad is a small ceramic bowl which can be used with dry herbs, or with solid extracts. The dosage pad fits 0.2gr of dry herbs instead of the 0.5gr that fits into the oven when using dry herbs. It can therefore be used as a micro-dosing oven reducer.
For extracts, a ceramic disc is also included in the IQ2 kit, which can be inserted into the Dosage Pad and used with solid extracts like Dab or Wax.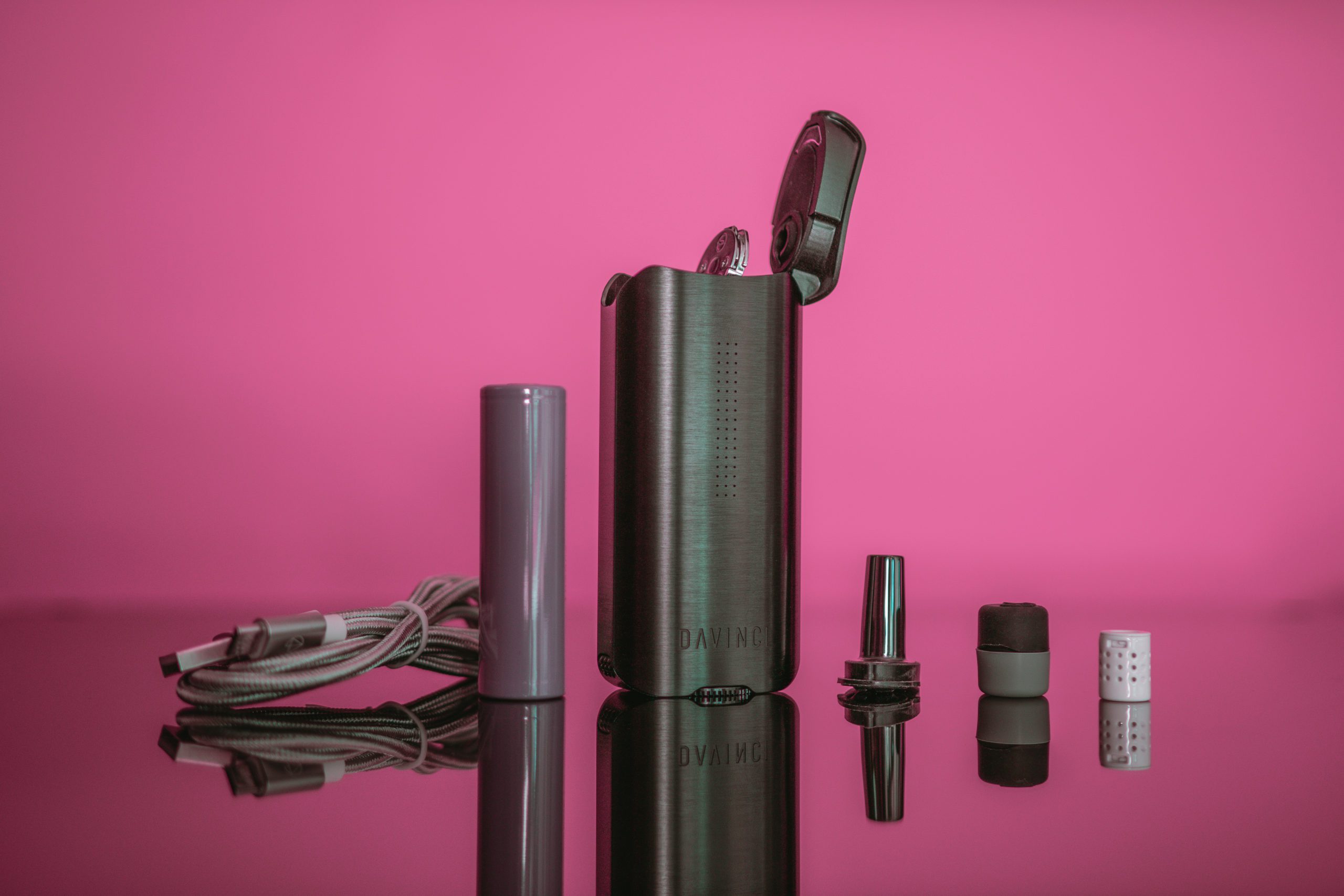 Conclusion
DaVinci has left a lasting impression on us, and we are glad to see them continuing to innovate and improve on previous models. 
The DaVinci IQ2 is undoubtedly a true innovation in the world of portable vaping and goes above and beyond when it comes to quality materials. A 10-year warranty is also included, giving you complete peace of mind and expressing the product's quality.
Overall, the DaVinci IQ2 is a fantastic vaporizer that is simple to use, portable, and powerful. You can buy the IQ2 from Tvape: Europe – France.
If you have questions about our DaVinci IQ2 review, drop us a comment below.