It can be difficult to decide which purchase is most worthy with so many different high quality herb vaporizers on the market. If it is of utmost importance for you to find an affordable portable vaporizer that allows both flower and concentrate consumers to enjoy their weed and which does not compromising premium quality, the newest Utillian 722 and improved version of the 721 model certainly deserves a look.
Today, we will look at the Utillian 722's features and description and what makes it one of the best herbal budget vaporizer on the market.
Utillian 722 Features
If you're familiar with the Utillian vaporizer line, you know that you can expect a great build quality, straightforward design and most importantly, stunning performance. With a slightly more stylized body, Utillian has incorporated a concentrate canister with this new model to take things to the next level and they changed the angle on the mouthpiece to make it a bit sturdier. The top part of the vaporizer is secured with a magnet making it easy to access the oven without getting worried about loosing it in your pocket or bag.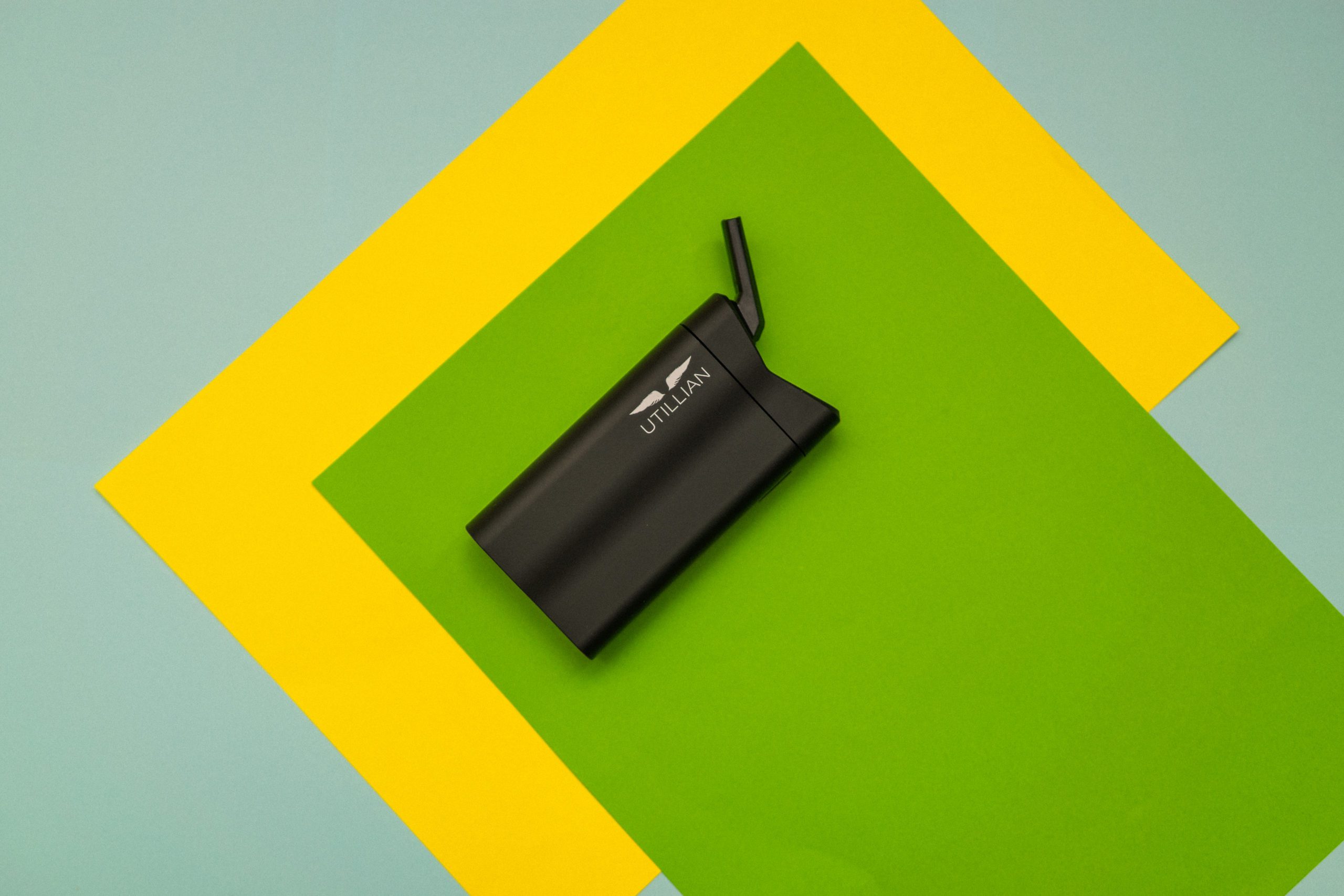 They also upgraded the "boost mode" to 225°C/437°F compared to 215°C/419°F on the 721 model, but as noted, the 722 will get a bit hotter in boost mode. The increased airflow with 722 is one of the main changes between the previous model. Airflow is responsible for the amount of vapor produced and contributes to smoother draws. Also, the larger airflow reduces the harshness of the inhaled herbs.
Temperatures and Heating Chamber
While some users usually prefer full temperature control, Utillian opted for a simplified version with a total of 4 different temperature settings based on your own individual preferences. Users can choose between, Green (180°C/356°F), Blue (190°C/374°F), Purple (200°C/392°F), Red (210°C/410°F) and the boost mode, which temporarily increases the temperature to 225°C/ 437°F. To activate the boost, which is a great way to finish off your session, simply press and hold the button until the LED lights flash red.
It is worth mentioning that when compared to similar vaporizers available, the highest temperature of the Utillian 722 provides much more vapor, which is very impressive because of its cost-effective point.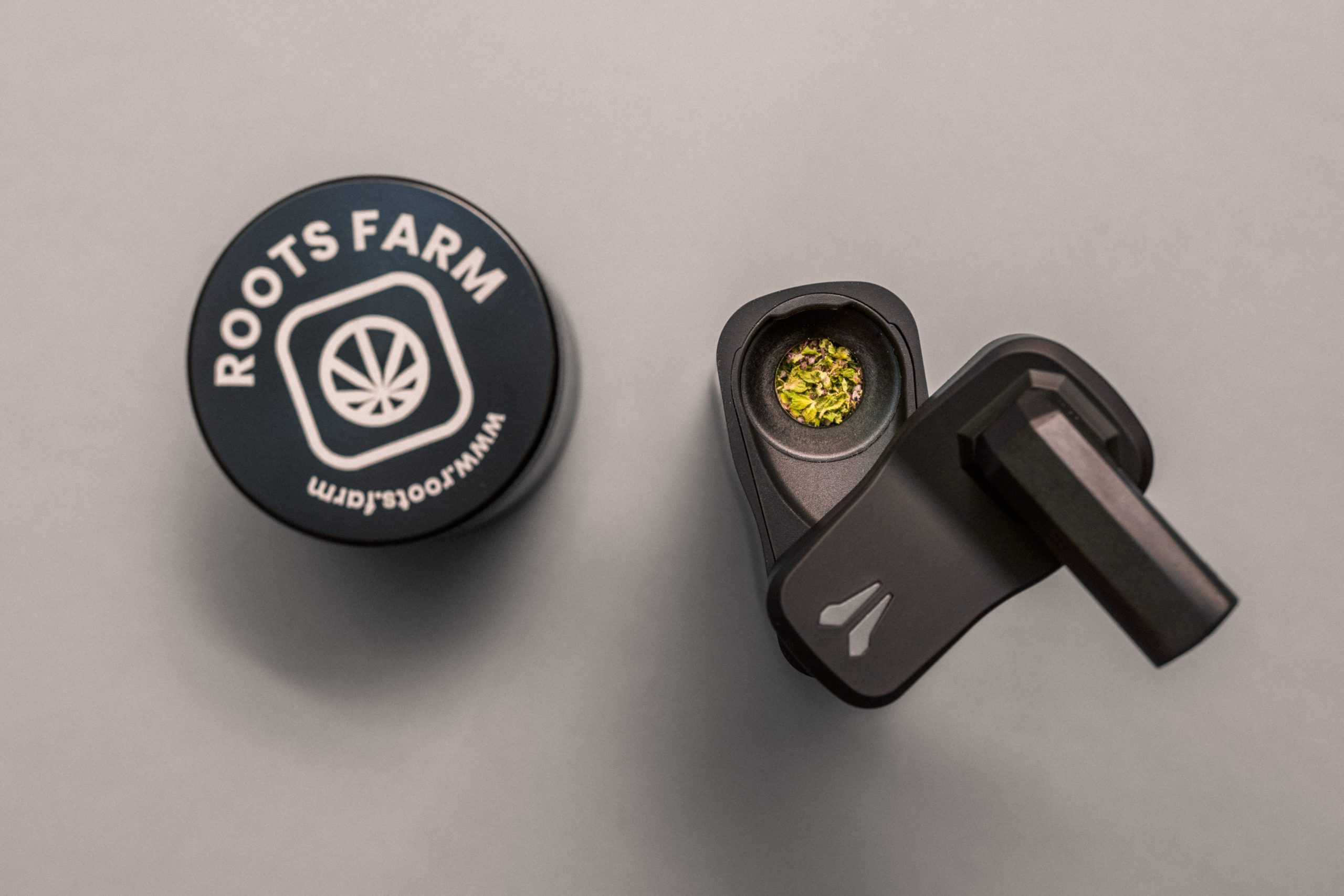 This vaporizer utilizes a big oven to make sure that each hit is enjoyable and fresh each time you want to vape your dry herbs or concentrates and can reach its set temperatures in 30 seconds. The heating chamber is made of stainless steel and has a capacity of 0.4 grams.
Vapor Quality
Much like the other models from Utillian, the 722 provides the user with a great experience and is an excellent convection-based vaporizer that is sure to provide you with the best quality vaping experience that you are looking for.
For those not familiar with the term, a convection vaporizer is a vaporizer that uses a certain type of heating system to vaporize dry herbs contained inside. Convection is when the air is heated before entering the chamber holding the cannabis. This is the best way to vape your cannabis because you don't risk to burn the herbs inside the oven since they don't come into contact with any heating elements.
Unlike dry herb vaporizers such as the Utillian 420, 421 and the 620, the 722 can be used with both dry-herb and concentrate materials (hash, wax, shatter, etc) by using a removable canister which falls into the heating chamber.
Utillian recommends the max or boost setting when using concentrates to experience your products to the fullest.
Additional note: Don't over-pack the oven, because over-packing may decrease your vaporizer airflow capacity, leading to reduced functionality.
Good Battery Life
The Utillian 722 has a long battery life for a lot less money compared to similar portable vaporizers currently on the market. Powered by a 2300 mAh battery, the 722 offers long-lasting battery life and you can use it between charges an average of 60 minutes. This long battery life allows light users to travel one or even two days without worrying about charging up.
The battery life indicator is located next to the USB charging port with the standard charging LED lights colors showing green for full charged, yellow for half, and red for 10% battery life left. The vape has an automatic shut-off after 5 minutes to conserve the battery life. The vaporizer use common Micro-USB charging port and you can charge it with cables you have already.
What's Inside the Box
Utillian includes all you need, from the USB charging cable to the concentrate canister, replacement parts like screens and o-rings. They included also dabbing spoon and a cleaning tool. Utillian 722 vaporizer also comes with only 1 year warranty.
Wax canister
Tweezers
Cleaning brush
Loading tool
Spare screens
Spare O-rings
USB charging cable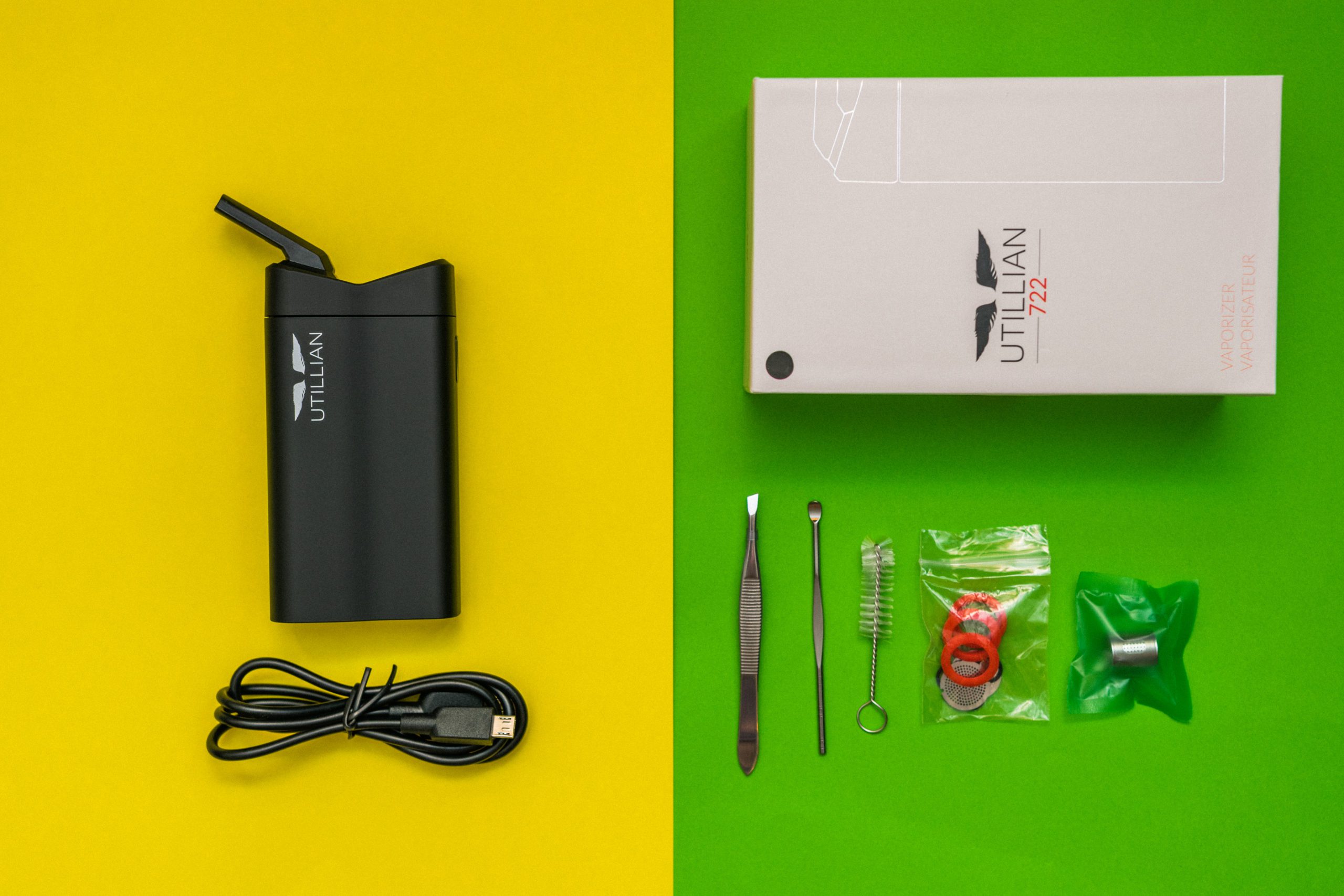 Conclusion
Overall, for a device that is this affordable, the Utillian 722 has a nice weight, feels very solid, it performs well and offers a premium vaping experience at an unrivaled price point compared to competing products, but if you don't want the price tag of the Mighty or Crafty by Storz and Bickel and you are a fan of convection vaping, definitely take a closer look at the Utillian 722 vaporizer using the links below.
The best place to buy the Utillian 722 vaporizer is from Tvape: US, Europe.
What do you think about the Utillian 722 vaporizer? Let us know in the comments section bellow.