Combine String Art and UV thread and this is what you get!
I justify and strengthen my love and passion for string art everyday especially when having the privilege to witness the brilliance of string art artist, Kevin Fernandez. Ke-v, a French artist is my inspiration with his special individual designs, each uniquely handmade with professional expertise.
UV Thread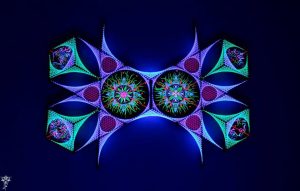 It is the use of materials that makes Ke-v stand out from any other artist I have seen and not only the materials, but also the sacred geometry and psychedelic nature of his designs is just breathtaking. Ke-v changes the perception of how I used to look and admire a string art wall decoration. Utterly unique his framework or surfaces are in wood and hand painted. But it is his choice of thread that I find immensely different and intriguing. Ke-v uses UV thread, which is an intricate part of why his string art designs stand out. Even in daylight UV thread is flashy and makes the wall decoration in string art a vocal point. The use of it adds a special dynamism and vibrancy in showing off the spectacular designs, which he uses that take you on an immersive journey through luminous string art décor.
Do you want to add a magic touch to your next project? Then you should definetly try this Glow in the dark thread!
You can buy Ke-v's artwork on Etsy!
Ke-v also works together for multiple projects with some artists you should also check out:
Go over to their pages and show them some support for the beautiful work they are doing. Meanwhile, enjoy some of the projects below: