Did you know that desktop vaporizers have been around for more than 20 years making life easier for weed enthusiasts? In fact, some of the first dry herb vapes ever created were desktop vaporizers. If you've only ever thought about smoking marijuana and never tried vaping, you 're missing out! If you're interested to find out why vaping weed has exploded in popularity, is because the risk of smoke itself. Vaporizers heat your herb to temperatures that release only terpenes, cannabinoids and flavonoids. As a results, you get the benefits of the Cannabis plant without the toxins associated with smoking it. In a previous article, we've talked about Arizer Solo II and why vaping is a more efficient THC delivery method compared with smoking cannabis.
The Arizer, a leading Canadian manufacturer of vaporizers that has earned a reputation for manufacturing high-quality products, continues to deliver the ultimate vaping flexibility with the Arizer Extreme Q, which is a re-engineered and improved version of the successful Arizer Extreme.
How Arizer Extreme Q Vaporizer is Elevating the Vaping Experience
It is an affordable, well-built desktop vaporizer powered by a 19-volt power adapter that is not meant to be portable and is one of the most popular desktop vaporizers on the market due to its cheap price point relative to more premium desktop vaporizers. For the most part, this vape has a great reputation and has become very popular in vape shops worldwide.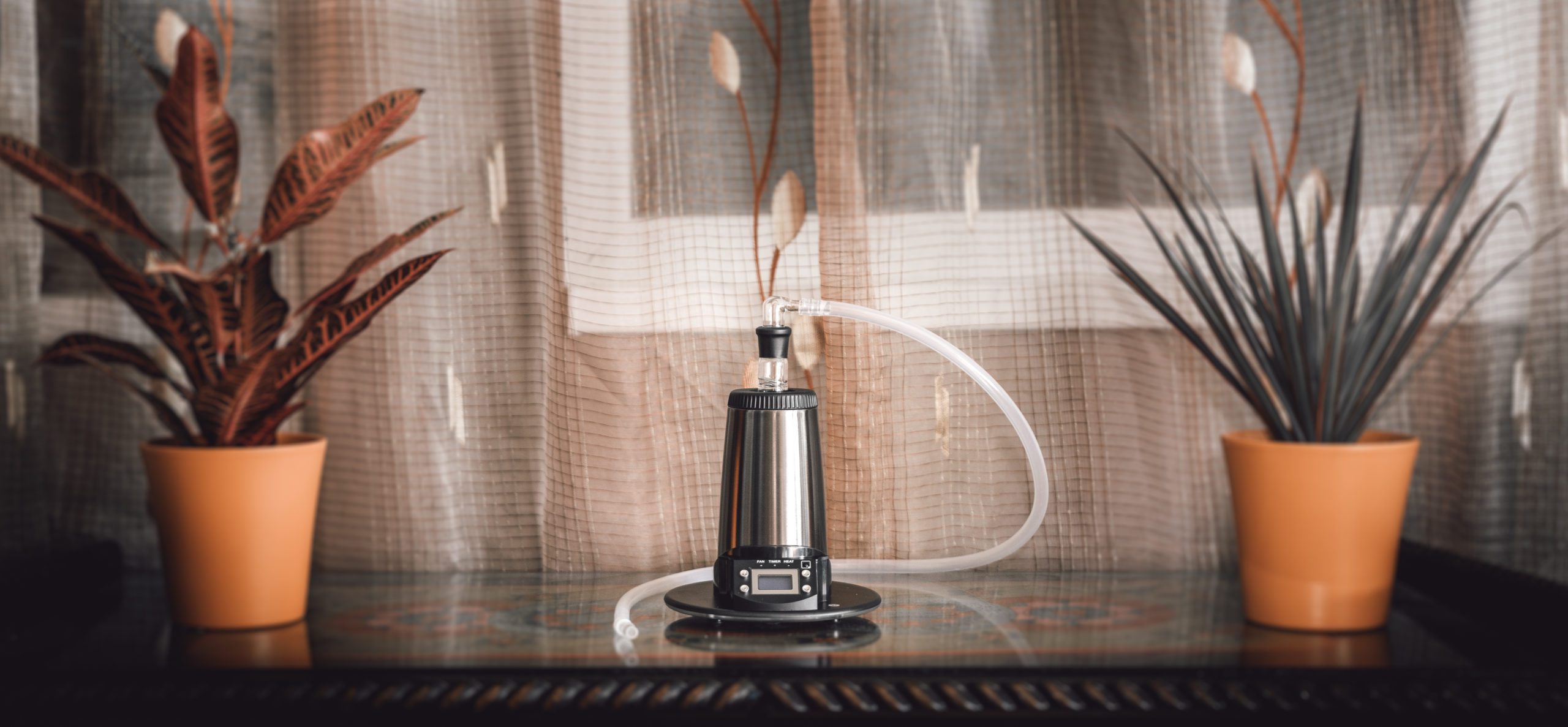 It has some great features, uses many glass components and for social occasions, the option to fill a bag is amazing. The standard direct draw can be used as well for solo sessions. Specific heat settings and the option between direct draw or balloon make it perfectly flexible for all vapers. The model is designed for use as a vaporizer for tobacco or dry herbs.
The Extreme Q vaporizer has an LED screen that displays timer, fan and temperature info. It also has an auto shut-off feature and the vaporizer comes with a remote control that allows you to change your settings from distance. The outer shell is made from highly durable stainless steel, and it doesn't get warm on the exterior when you're using it. The vaporizer's accessories are made of high-quality materials as well. It is also worth mentioning that the Extreme Q has an internal fan to push out the vapor when the balloon is used, and it's impressively quiet.
Temperature and Heating Time
The Arizer Extreme Q has a slower heating up time compared to other vaporizers, since filling a balloon with dense vapor can take up to 2 minutes depending on the temp setting you choose; however, if you use other drawing methods, the Extreme will be ready for use faster.
Be aware that, while the vaporizer's body is cool to the touch, the glass components become very hot when they are used. If you want the vaporizer to be refilled, you'll probably need to turn it off and wait 5 to 10 minutes until it's cool enough to handle. Heating temperatures range from 50°C to 260°C (122°F to 500°F).
Vapor Quality
Flavor with the Extreme Q is fantastic, but if you're using the balloon, the terpenes in the vapor will begin to condense inside the bag. You can thank terpenes for all the cannabis flavors and aromas you know and love if you draw directly from the whip. It produces tastier vapor simply because of the shorter vapor path.
But vaporizing with bags provides certain advantages over other methods. They ensure that there is no waste since everything goes into the bag, they are easy to share with friends at parties and give the vapor time to cool, so it's never hot.
Conserve your herb with the Elbow-Pack
The glass Cyclone Bowl is quite large and requires a large amount of herb, at least 0,4 g. Although it's ideal for long sessions, it may be too much for solo sessions. However, this problem can be solved very easily with the Elbow-Pack leaving the Cyclone Bowl empty and load the weed into a small screen located in the glass elbow in the silicone tube.
If done properly, the Elbow-Pack method produces a lot of vapor and you're going to use a little less weed, only 0.1 g of weed than filling the whole Cyclone-Bowl, but can still deliver a great vaping experience and also provide a much thicker vapor. However, because the is farther away from the heating element, the temperature you normally use must be raised by 15-20 degrees.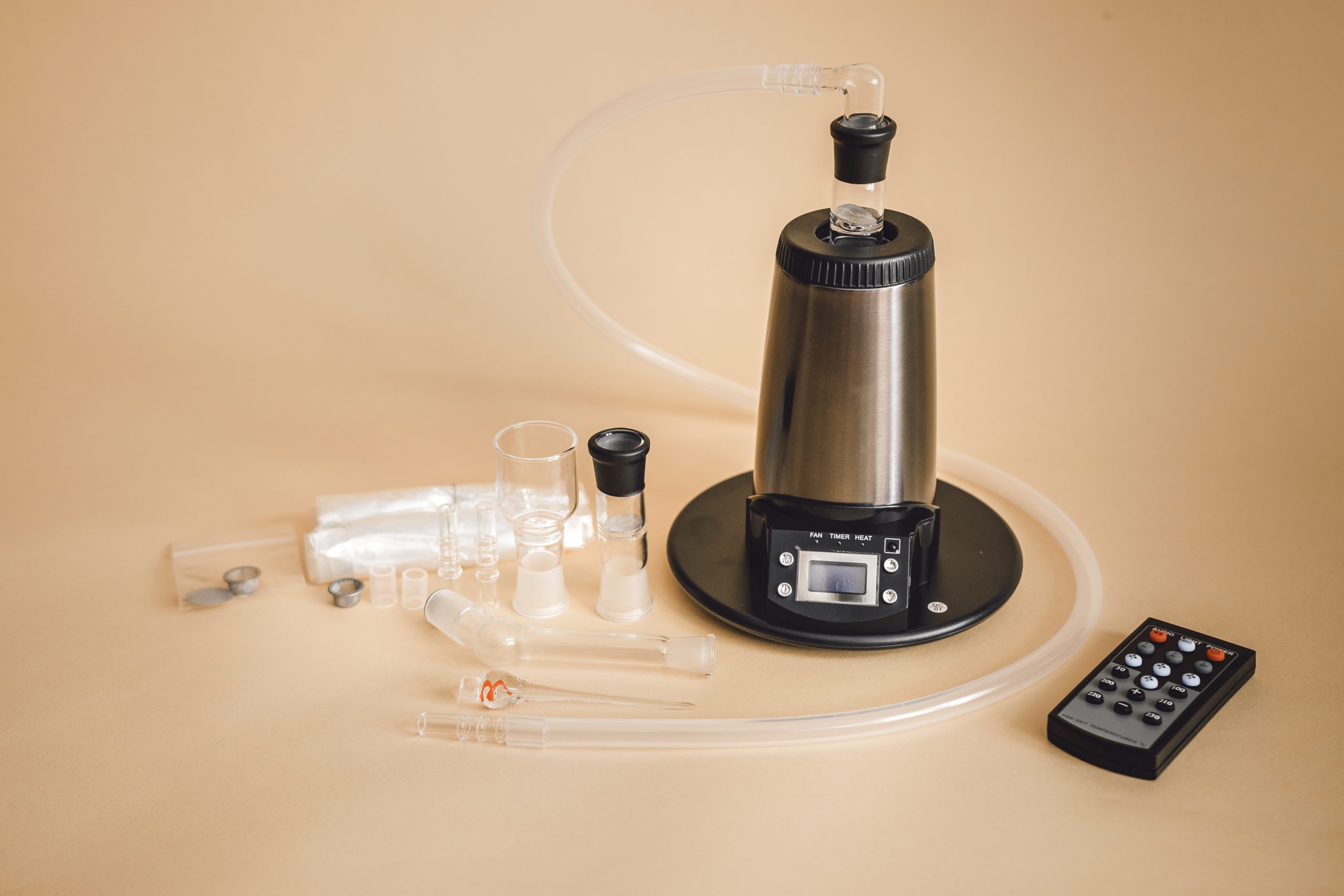 Another cool feature is the ability to connect the Arizer Extreme Q vaporizer to a full-size water pipe with 18.8 mm cut. Obviously, it must be one that allows the blowpipe to be removed and used independently. The benefits of using a water pipe is because the inhalation through warm water not only cools down the vapor, but adds moisture as well and will protect you against throat dryness. Also, the warm water reduces the possibility of condensation. You'd be surprised at how much of a difference it makes. If you've got an 18,8 mm water pipe, you can also filter the vapor condensed in the inhalation bag that you filled with your Extreme Q vaporizer.
What's in the Box
Extreme Q Vaporizer unit
Remote Control
2x Glass Cyclone Bowls with Flat Screens
Pre-Attached Long Whip for Direct Draw
3′ Whip Tubing
Glass Whip Mouthpiece
Glass Elbow Adapter with Dome Screen
All Glass Mini Whip
2x Balloons
2x Mouthpieces
Glass Stir Tool
Screen Pack
Flat Screen
Dome Screen
Glass Whip Mouthpiece
Glass Potpourri Dish with Potpourri Sample
110/220V Power Supply
User Manual
Warranty
Inside of the Arizer Extreme Q Vaporizer, the ceramic heating technology is backed by a lifetime warranty, providing one of the industry 's longest warranties. The total workmanship and other parts are also ensured for three years.
Final Verdict
The Arizer Extreme Q dry herb vaporizer retails for $188,99 (US) at Arizer.com, priced at about half the cost of the Volcano. Overall, we recommend this vaporizer for its price, amazing vapor quality and functionality, providing multiple impressive features you would expect of high-end desktop vaporizers without breaking the bank.
You've got an Arizer Extreme Q? Let everyone know what you think about this dry herb vaporizer in the comments section below!