If you love cannabis, there's a good chance that you're pretty familiar with the world of edibles.
As the cannabis industry has taken off over the past few years, so has the creativity in how you can get high. All across the county, there are specialist restaurants where you can find dining with a side of cannabis. Pizza, pasta, ice cream, and even wine are all on the table for weed lovers the world over.

You deserve more than just pot brownies made from a box—you can get your hands on practically any food that's weed-infused. From appetizers, entrees, desserts, and snacks, there are tons of recipes out there that will get you high and appease your munchies.
Here are 5 of the best cannabis recipes that will blow your mind, literally.
1. Cannabutter
Cannabis infused butter is an essential item for any weed based food. All you need is about a cup of water, a pound of unsalted butter, and an ounce of lightly ground cannabis.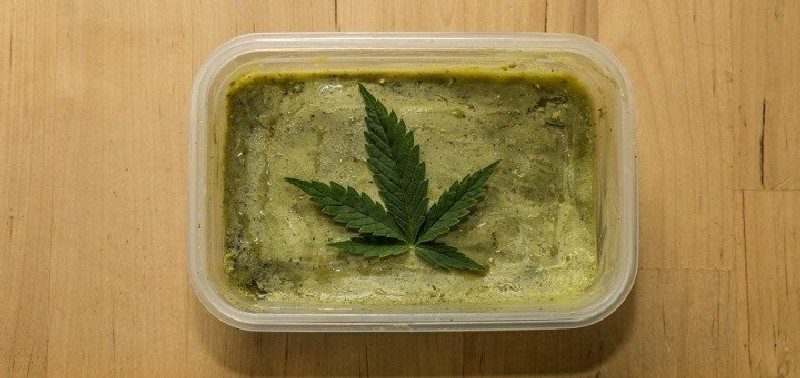 Put the cannabis and butter in a pot with a small amount of water. You don't have to use the full cup–put in just enough that the butter doesn't burn. Heat on a low simmer for three to six hours.

Keep in mind that the longer you heat, the more cannabinoids you get in the butter. Just be sure that the substance doesn't burn.

Once it's heated, let it cool. Then strain out the remaining plant material and put it in the fridge overnight to harden. Finally, you can remove the hardened butter from any leftover water. Then you'll have cannabutter–butter infused with powerful cannabinoids.
When using cannabutter, be careful with your dosing amount so that you don't go overboard. Read here for more important tips you should know about taking cannabis edibles.
2. Cannabis Nutella
For those with more of a sweet tooth, there's no better chocolate spread than cannabis-infused Nutella. Nuts, cannabis, and one of the world's favorite chocolate spreads all rolled into one.
All you'll need is a jar of Nutella, cannabis-infused oil or butter, and a mixing bowl. Put the Nutella in a mixing bowl. For every spoonful of Nutella, mix in one spoonful of cannabis oil or melted cannabis butter. Once mixed in, stir until the oil or butter has been distributed through the spread and is no longer visible.
Place the Nutella in the fridge for about an hour. Once it's cool, it's ready to eat.
3. Fruity Gummy Bears
Gummy bears might be known as a popular snack for children. But these cannabis-infused gummy bears take the recipe up a notch–for adults only.
Not only that, but they're made with real fruit, so they're healthier than any gummies you can find at the store.
Take ⅔ of a cup of puréed fruit, like strawberries or blackberries. Combine in a saucepan with ⅓ of a cup of water, a tablespoon of lemon juice, and two tablespoons of a sweetener, like honey, sugar, or maple syrup. Put it on low to medium heat and stir gently.
Once it's fully heated, add in two to three teaspoons of a cannabis tincture. Then, slowly whisk in three tablespoons of gelatin to help the mixture solidify.
Continue mixing until the substance is completely smooth and combined. Then, turn off the heat and fill a gummy bear mold with the mixture.
After 15 to 20 minutes cooling down in the fridge, your bears can be pried from the mold and enjoyed.
4. Garlic Parmesan Pasta
One of the simplest ways to put a cannabis kick into your regular entree is through a bowl of pasta. This garlic angel hair pasta is dusted with parmesan and infused with cannabis–so you can get your high and satisfy your carb cravings all in one.
You'll need a package of angel hair pasta, salt and pepper to taste, four tablespoons of cannabis-infused butter, seven garlic cloves finely chopped, and ¾ cup parmesan cheese.
First, melt the cannabutter in a large skillet over medium. Add the garlic and cook for three to five minutes, or until medium brown. Remove the pan from the stove and set aside. Then, bring a large pot of water to boil. Add salt and pasta and cook for about two to five minutes. Stir until the pasta becomes soft. Drain all the water except for about ½ a cup.
Then add the garlic, salt, and pepper. Mix the ingredients well and slowly combine a ½ cup of grated parmesan cheese.
Finally, you can transfer your cannabutter, garlic, and parmesan pasta to a plate and top with the remaining parmesan.
5. Green Mac and Cheese
This creamy mac and cheese recipe isn't just green from cannabis. It's the perfect comfort food combination with a few vegetables to keep it healthy.

First, combine 1¼ cups of spinach, one cup of parsley, one cup of basil, one cup of parmesan cheese, and a clove of garlic and blend in a food processor. Slowly add ½ cup of milk and purée until smooth.

Then, take two to four tablespoons of your cannabutter and melt in a saucepan. Add ⅓ cup of all-purpose flour and cook for two minutes. Add another three cups of milk and stir until thick, about eight to 10 minutes. Stir in ¾ cup of cheddar cheese, add salt and pepper to taste, and then cook until the cheese has melted.

While you're preparing the cheese, cook a packet of macaroni pasta in a pot of boiling water for five to 10 minutes.

When both the pasta and the cheese are prepared, add the pasta to the cheese sauce. Then, add the spinach and herb blend and stir to coat.

You can eat the pasta now, but if you'd like to add some extra crispiness, you can spread it along a baking dish. Top with extra cheese and broil for about five to seven minutes, until the cheese is golden brown and bubbling.
Best Cannabis Recipes That Are Better Than 'Special Brownies'
If you're a lover of cannabis and good food, you deserve better than the standard edibles.

These are some of the best cannabis recipes out there–and you can use these as a base for bigger and more complex recipes if you want to take it even further.
The combination of comfort food and cannabis will help take the edge off your high and keep you from being overwhelmed all at once. Even better, you'll be one step ahead of the munchies.
Looking for more tips and tricks to take your cannabis consumption up a notch? Check out our blog for more articles!