CBD is right on trend at the moment. You can barely go into any shop without hearing about CBD or seeing the latest product that has CBD incorporated into it. The beauty industry is well renowned for latching on to the latest trend, and CBD is no different. Why is CBD on the rise? And is it really the beauty industry's newest, biggest trend?
Let's have a look at some of these questions.
What Is CBD?
CBD is short for cannabidiol, which is a compound derived from the marijuana or hemp plants. CBD is a cannabinoid, of which there are many that make up these plants.
Another well known cannabinoid which you have probably heard of is THC. THC is notorious as it is the psychoactive part of the plant, or in other words, the compound that makes people high.
CBD is not psychoactive, and therefore does not make the user high, but it does have a lot of beneficial properties, such as being anti-inflammatory that make it rather useful.
CBD has been widely used to help reduce the frequency of seizures, and has also been used to reduce the symptoms of anxiety disorders, as well as depressive disorders.
CBD is legal in many places, and even some where marijunana is not legal, and is being used by more and more people. It is most commonly available in an oil that is taken by mouth, but is also available as a vape juice, topical ointment and in edible form.
More and more however, it is moving into creams and serums used by the beauty industry.
CBD In Beauty Products
As CBD continues to rise in popularity, it is making itself known in the world of beauty. As an industry, it is also looking more towards being seen as more sustainable and green, so using a natural product that reflects that makes perfect sense.
There are many moisturisers that contain CBD, other products it can be found in are facial oils, facial serums, cleansers, face masks, to name just a few.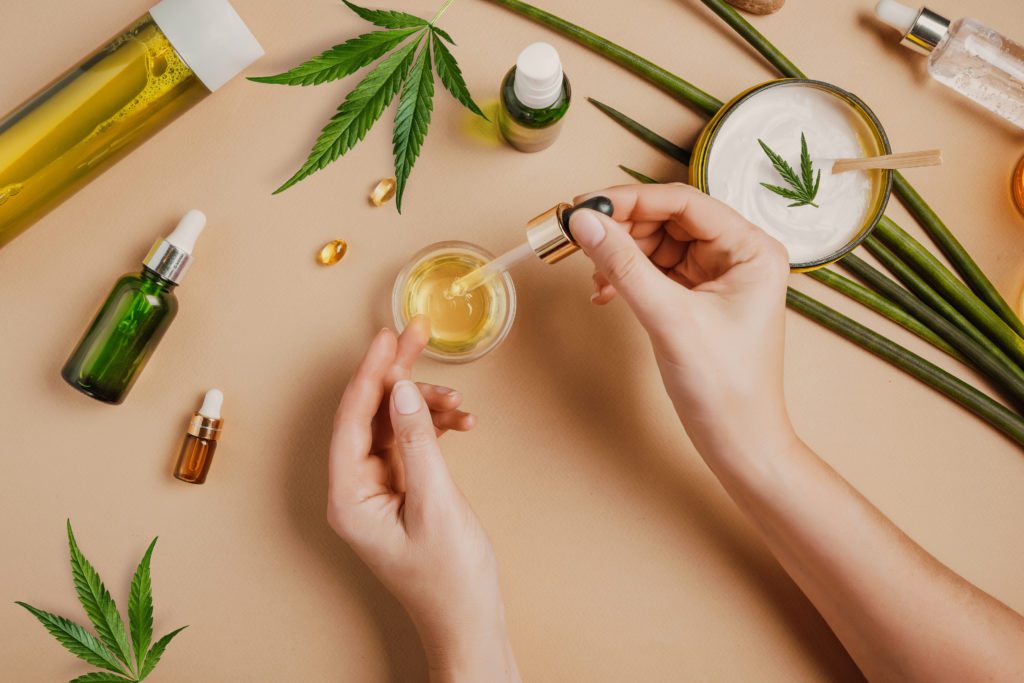 There are also CBD make up products available, as well as hair products including shampoo, conditioners and deep conditioning masks that contain CBD.
Many department stores and large beauty brands, such as Body Shop, are selling CBD products, which is helping it to be more widely acceptable, and is doing away with the stigma that CBD has long held.
There are many places to get information on CBD, such as hideandseekcbd.com for example.
Do CBD Products Work?
Well, it's not hugely clear yet. CBD is still a fairly new product, and therefore there is a lot of research still being done into it.
We know that CBD does help with some medical disorders, such as anxiety and epilepsy, and chronic pain, but even in medicine, CBD still needs a lot more research to find out exactly why it helps the conditions that it does seem to help.
We do know, however, that CBD has anti-inflammatory properties, which may be why it works so well in beauty products.
There have been studies that using CBD as part of a skincare regime can help to reduce acne and skin redness, make skin look less tired, reduce fine lines, lessen signs of aging, and make skin appear smoother whilst moisturising it, and in general seems to soothe sensitive skin.
However, this is currently anecdotal evidence, and more studies will be carried out into how exactly it works when used in this way. The beauty industry is working hard on ensuring customers understand what CBD oil is, and how it can benefit their skin care regime.
CBD oil is already mainstream in the beauty industry, and it is only to become more so, as the public becomes more educated on its uses.
Other Properties Of CBD Oil
As well as containing CBD, CBD oil contains some other beneficial ingredients that can really help the skin. CBD oil also contains the vitamins B and E, both of which are good for the skin. Vitamin B is vital for new skin cell production, and also helps to reduce the appearance of dark spots and marks on the skin.
Vitamin E is well known for being excellent for your skin, and there are many branded vitamin E products available, as we know it works so well. Vitamin E is a powerful antioxidant, which means it reduces the production of free radicals. Free radicals are well renowned for their ability to cause signs of skin aging including wrinkles.
What Are The Side Effects?
When taking CBD oil for health, such as taking it orally or via an e-cigarette, there can be some side effects, but is generally considered very safe, although you should always check with your doctor before taking CBD supplements.
The most common side effects from taking CBD for medical reasons can be headaches, dizziness, fatigue, nausea, dry mouth, anxiety, depression and gastric upset.
However, when CBD is used as a beauty treatment, the concentration tends to be lower than when it is used for a medical reason, and therefore side effects are less likely. CBD is considered a very safe ingredient, with few side effects. Also, the big advantage of CBD is that it doesn't contain THC, so you can use the product and continue your day as normal without having to worry about the possibility of being high.
But, as we have said, if you have any illnesses or are taking any medications, consult a doctor before adding CBD to your regime, in whatever form.
Last Words
Many trends in the beauty industry are fleeting, like hair mascara – remember that?! However, CBD looks to be here to stay, especially as many people move towards a more sustainable, natural lifestyle. CBD has a fair bit of research behind it already, and customers are raving about the effects they are getting from using CBD products.
Make sure you always buy your products from a reputable retailer that has a consistent amount of CBD in it, so that you always get the same effect from your chosen products.