We recently reviewed the Zeus Arc GT vaporizer, but thanks to our friends at TVape, we have our hands on a few cool accessories for it. The company was kind enough to send us the ZEUS Iceborn, Zeus Bolt and XL grinders.
The Toronto-based Zeus Arsenal has an incredible passion for making high quality vaporizers and some of the best accessories for cannabis connoisseurs. They work with a large team of German designers to develop new ways to improve the vaping experience and process.
Having the best cannabis experience is a magical thing, and a cooling system for a cannabis vape is an excellent idea. With the right set and setting, a fully packed bowl or hand rolled joint of weed at peak freshness can create a memorable and enjoyable moment that can seem to last forever. Having an outstanding session requires the right instruments and careful preparation.
We know you just want to vape, but vape smartly. Here are some of the best – and best-looking – cannabis accessories for your Zeus Arc you can get right now.
Zeus Iceborn
We quickly came to appreciate the advantage this accessory brings to the Zeus Arc GT. The Iceborn is supposed to be an add-on to your existing vaporizer, and thanks to it you can dramatically cool down and improve the vapor quality that your vaporizer produces through a chamber that is cooled with ice rather than water. It's quite simple and delightfully effective.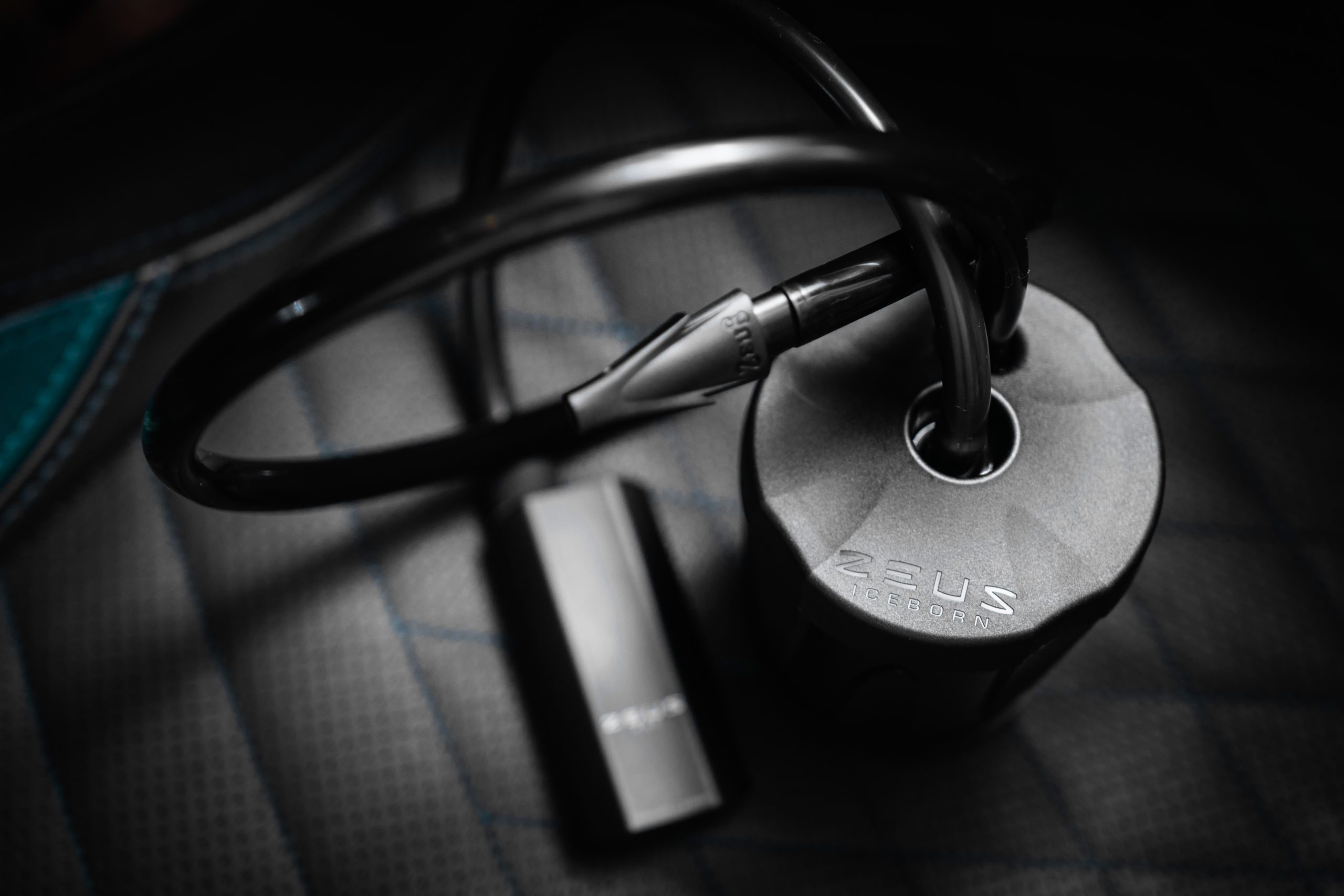 Thanks to the fine folks at Zeus, it comes with an integrated drip tray at the bottom which captures most of the condensation that falls outside the unit.
The Zeus Iceborn is a bowl with several metal tubes on the top and bottom. You put the tubes together and get them at the right place, you fill up the Zeus Iceborn with water and then freeze it. The Zeus Iceborn is compatible with most vaporizers that have 6.5mm – 11mm mouthpieces on the market.
If you're using the Iceborn cooling system with the Zeus Arc vaporizer, be sure to update the firmware to 4.1 version, because the vaporizer shuts off automatically if you don't touch it for 30 seconds and you'll be forced to grab the vape twice a minute. This firmware, which was designed specially to work with the Iceborn comes with new settings that disables the cooldown and motion sensor shut off times and also new temperatures levels: 205°C (401°F), 215°C (419°F), 225 °C (437°F).
The Iceborn is more than just an enjoyable way to impress your tech-nerd friends, it is a vapor cooling device that filters the vapor and cools down through a series of aluminum tubes surrounded by ice, reducing the throat and lung irritation. Some users say that the vapor is extremely cool and the quality is improved by about 15-20%, regardless of the vaporizer used.
This video offers a good idea of the process and why it is worth considering ZEUS Iceborn if you like vaping with ice.
What's in the box:
Zeus Iceborn
3 Silicon whips in small, medium and long lengths
Zeus mouthpiece
Is it truly a game changer? Yes. It's a unique design, and people would definitely benefit from a device like this. The main chamber and top lid are made of a highly durable dishwasher safe plastic.
Overall, the unit is very well designed and it truly feels like a premium vaporizing accessory. The Iceborn is a huge step up from the classic water cooling systems.
The best place to buy the Zeus Iceborn is from Tvape: US, Europe. 
Why are grinders such vital pieces of equipment?
Whether you're smoking or vaping, preparing your cannabis is important to enjoy the full medicinal and recreational benefits of it.
Same as Cheech and Chong, grinders and vaporizers go hand in hand and they are closely connected with each other. However, grinders are largely underestimated by most people who use cannabis almost daily.
A grinder is an essential piece of equipment for any self-respecting vaping enthusiast if you want to get the maximum benefit from your cannabis plant. Using a grinder keeps your hands from getting sticky and it will ensure that you will be able to enjoy your vape sessions at the optimum level of bliss.
Zeus Bolt and Bolt XL grinders
Now, onto the grinders. An attractive option for vapers looking for a premium grinder is the Zeus Bolt, the smaller version of Zeus Bolt XL. A four piece grinder like this with super sharp diamond cutting teeth, magnetic lids and drop-through holes, specially designed for vaporizers can easily break down your dry herbs into a much more consistent texture, helping your vaporizer perform more uniform and efficient heating.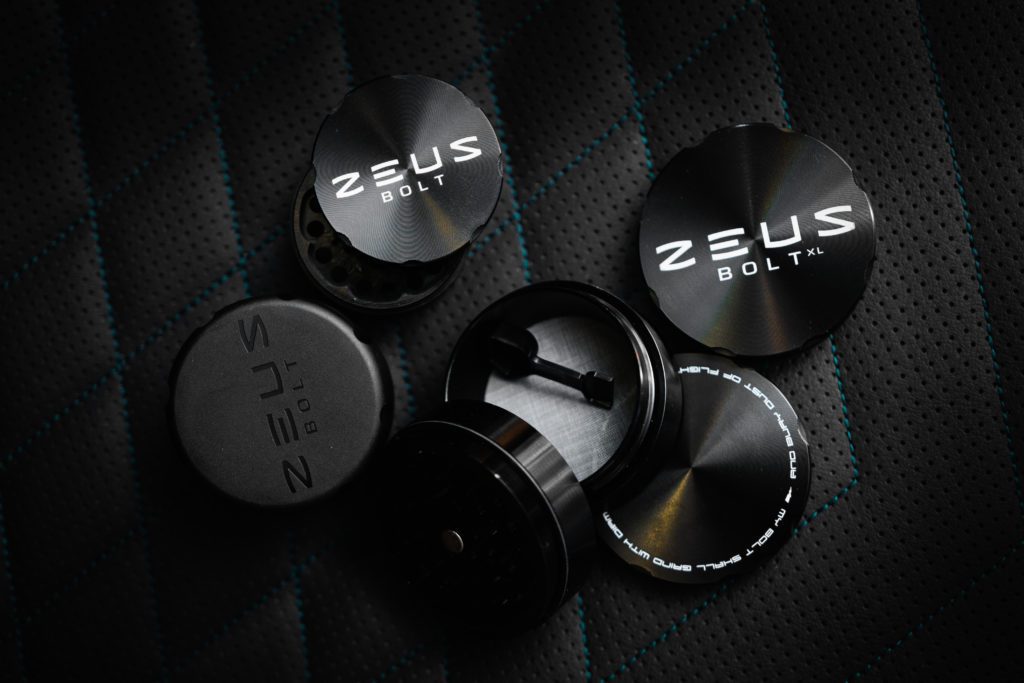 Additionally, you can convert them to a three piece grinder by leaving the screening compartment out. As they are made of aircraft grade anodized aluminum (AGAA), Zeus Grinders are known for their exceptionally high quality. 
The Zeus Bolt grinder comes with a durable air tight case, which makes it the perfect smell-proof container for your grinder.
When you're looking for the right type of grinder, you should first be aware that different grinders produce different consistencies that work best for certain vaporizers. For example, if you have a conduction type vaporizer like Zeus Arc GT, Arizer Solo II, Utillian 420, or the 421's model, you should be using a fine type of grind. For convection type vaporizers you should be using a more coarse type of grinder for increased airflow through your herbs.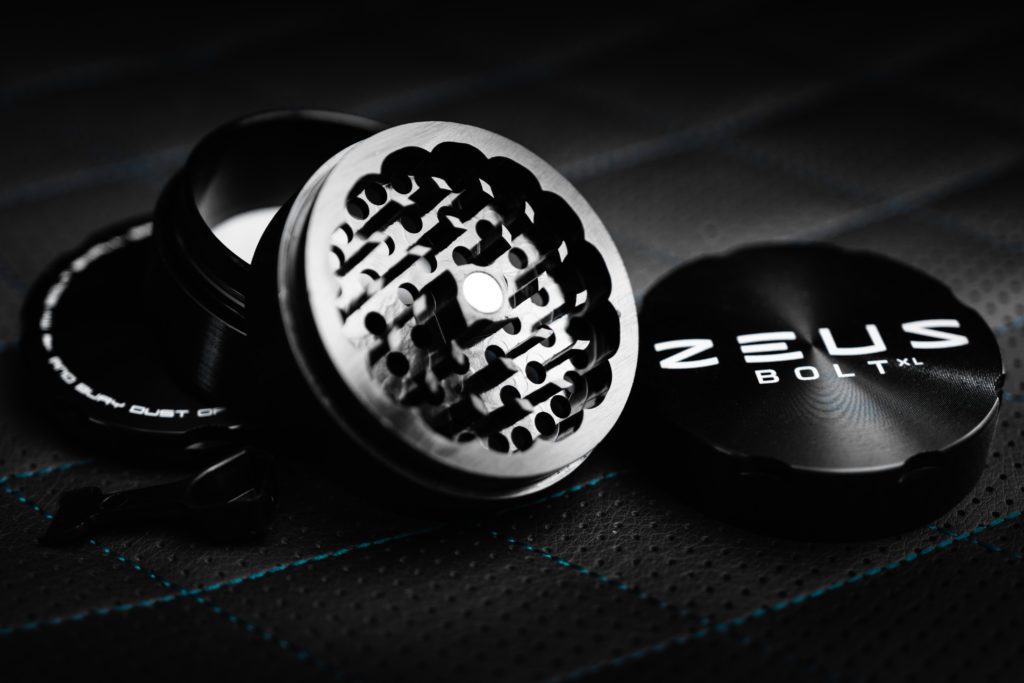 Both Zeus Bolt and Bolt XL do an excellent job of grinding down your weed smoothly and consistently that will work best no matter what vaporizer you have.
The Zeus Bolt XL is very large (5.7cm tall and 7cm wide), capable of handling large amounts of herbs with ease.
The reason why Zeus Bolt grinders work so well with the Zeus Arc is that it succeeds in grinding the herb into a very fine powder which makes it much easier to pack it into your vaporizer.
Final words
These particular cannabis accessories are one of the most superbly designed grinders that you can have, offered by Zeus Arsenal to bring you the very best in herb shredding technology.
The best place to buy the Zeus Bolt grinders is from Tvape: US, Europe. 
If you're an enthusiast who uses a variety of vaporizers and smoking accessories, you might consider spending a bit more to get the Zeus Bolt XL. 
Let everyone know what you think about these accessories from Zeus Arsenal in the comments section below!