The cannabis industry is rapidly growing because of more states and countries legalizing medical cannabis and controlled recreational use of marijuana. If you're planning to start a cannabis dispensary or cultivate cannabis for commercial purposes, then this article is a must-read.
Opening a cannabis dispensary, running a cannabis farm, or manufacturing cannabis-related products would require knowing the latest trends and updates to create better marketing strategies and business decisions. So, learn how to use cannabis industry statistics to grow your business below.
1. Use Cannabis Statistics To Raise Consumer Awareness
Whether you have a cannabis cultivation business or you're into processing and manufacturing cannabis-related goods, you can use cannabis industry statistics to raise awareness of consumers and even people around you. In this way, they become more open to the benefits cannabis can provide rather than the misconceptions and ill rumors about this amazing plant without any evidence or clinical basis.
If more people accept cannabis and realize how this plant can benefit their lives, then you can help the cannabis industry and also increase your sales for your business. Consumers want to know the real score about cannabis, and providing factual information can give them assurance that consuming the recommended amount and brand of cannabis is safe and effective in easing signs and symptoms such as stress, anxiety, pain, and insomnia.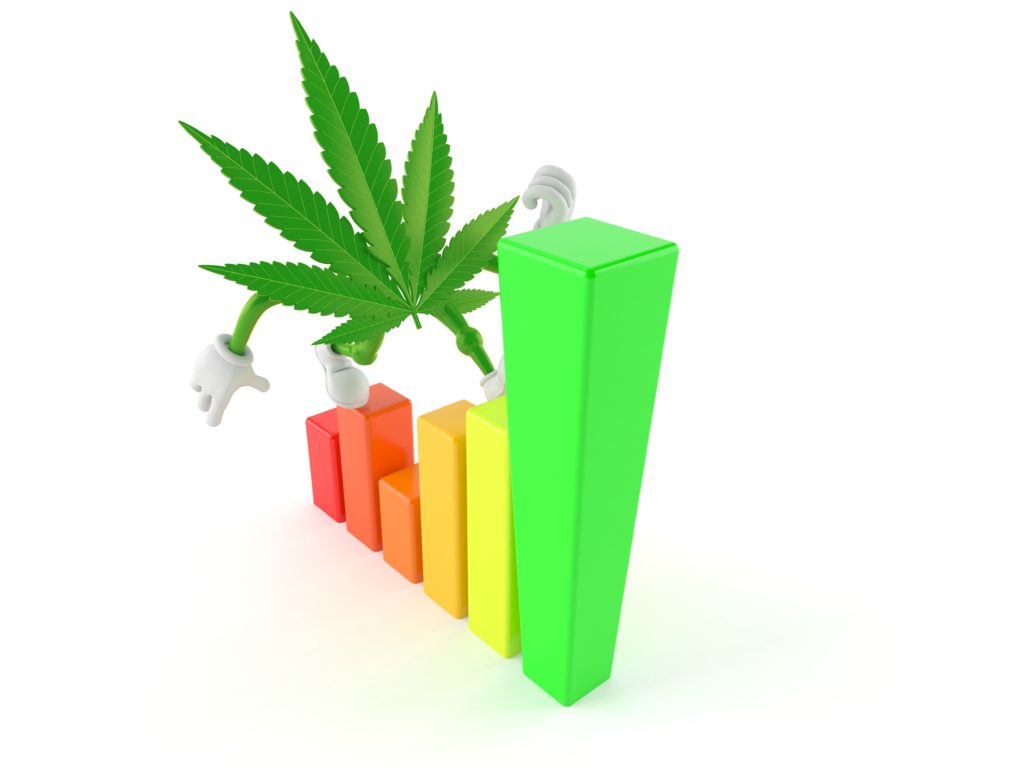 Check this cannabis industry statistical source that you can relay to your prospects to help grow your cannabis business:
Marijuana Usage Statistics
You can include factual information on your website about cannabis usage such as this statistical report, in which 12% of Americans are considered active or current users. Half of the people aged more than 18 years old have consumed cannabis in their lifetime. In addition, the majority of marijuana users in 2020 are millennials.
Acceptance Of Recreational Cannabis
About 12 states in the United States have legalized recreational cannabis use for people aged more than 21 years old. Some of these states include Oregon, California, Colorado, and Washington. By sharing this information with your target audience, they'll have peace of mind that they're not violating anything if they're located in these states.
Medical Cannabis Market Growth
Cannabis for medical use is now legal in 34 states in the US. In fact, the 2020 election day was big for the medical cannabis market wherein South Dakota passed legislation that legalized the use of cannabis for recreational and medical use and Mississippi voted for the legalization of marijuana for medical purposes. You can present this statistical data to your audience to open their minds that cannabis is indeed used as an effective alternative treatment for various signs and symptoms.
Cannabis Market Opportunities
The marijuana industry in the US is worth USD$61 billion, which exceeds expectations every year. It's projected to be worth USD$100 by 2030. You can position this information to educate consumers that cannabis is in demand. They can also set up their business in the future and you'll be there to provide the cannabis paraphernalia and supplies they need to start.
Educating consumers supporting cannabis-related products is one way to help people through employment, especially seniors who still want to make money. While the staffing stalled during the pandemic crisis, employment increased by year-end.
2. Explain The Business Growth Potential Of Cannabis
If you're a manufacturer of cannabis-related devices or equipment such as grow tents, light-emitting diode (LED), carbon filters, and fans, then you can explain the business growth potential of venturing into the cannabis market.
In the same way, your business can be a cannabis consulting firm if you have a background working in a seed bank or large cannabis product manufacturing company. By doing so, you can encourage start-up entrepreneurs to vouch for your cannabis products and services.
You can get some valuable insights from this marijuana dispensaries growth study such as the following:
Sales for legal marijuana reached close to USD$20 billion in 2020.
The fastest-growing cannabis cultivation market in the US is Oklahoma, which issues more commercial cannabis growing licenses as compared to any other state.
The US market will reach a value of USD$30 billion by 2025.
Marijuana isn't federally legal. Hence, many dispensaries aren't insured and are exposed to crime, which prompts a big investment in modern and advanced access control.
3. Use Statistics To Grow Your Digital Marketing Business
Do you have a digital marketing agency? If yes, then you can also focus on providing your services to the cannabis industry. Because most consumers buy products online, cannabis businesses are expanding their online reach. They compete with each other to attract a huge percentage of online customers to their brand.
So, you can take advantage of cannabis industry statistics to explain the importance of establishing an online presence for any marijuana-related business. In this way, you can position yourself as an industry expert and choose your digital marketing services to help them promote their products.
You can check the parameters below to raise the value brands and sales of a cannabis business, which includes the following industry statistical data:
The sales of the Canadian cannabis market doubled in 2020, which hit CAD$2.6 billion. Despite the pandemic, the marijuana industry in Canada still survives and even exceeds the market expectation because of digital technology. Hence, you can present this information on your website to educate aspiring cannabis entrepreneurs on the importance of online presence and avail of your digital marketing services.
The key drivers in the success of the Canadian marijuana market include increased retail access to brick-and-mortar stores in Quebec, Ontario, and British Columbia. Of course, the e-commerce expansion offering click-and-collect services, along with more competitive prices, helped the industry attain success.
Because of the diverse range of products and prices of cannabis, value brands proliferate, offering more options for customers and increasing product quality because of tight competition. Your digital marketing agency can help cannabis businesses in establishing their value brands to reach success.
4. Highlight The Key Benefits Of Cannabis
If consumers are made fully aware of the benefits of cannabis, then more people will avail cannabis products. You can use cannabis industry statistics to highlight the key benefits of cannabis in terms of the following:
Medical Cannabis Statistics
You can research the medical benefits of marijuana online such as clinical trials or studies. In addition, you can discuss the different roles of cannabinoids or how they work in reducing signs and symptoms of medical conditions.
You can also research and compile pieces of anecdotal evidence of people who reported they gained medical benefits from cannabis.
Recreational Cannabis Statistics
You can highlight the importance of legalizing cannabis to get rid of the black market for more controlled and regulated recreational marijuana use. In this way, you can help safeguard consumers from scrupulous sellers and drive them to your legitimate business.
You can position a statement that legalizing marijuana can also help reduce the likelihood of juvenile cannabis use. Cannabis businesses can be open to the public with the appropriate licenses and permissions, complying with the government and cannabis laws such as selling only recreational cannabis to legal age customers.
Cannabis has long been used in research and development in the pharmaceutical industry. By discussing various research studies about cannabis in your web content, you can make your business more credible to the eyes of prospects.
5. Boost Your Sales
By using factual details and linking them to backup references, you can get the buy-in of your readers. They'll be more convinced of any claims you publish online because they can reference actual statistical reports and studies. As a result, you'll be more confident to offer your products and services to grow your cannabis business.
Aside from cannabis industry statistics on your website, you can also include them in the following marketing platforms:
You can post cannabis statistics on your social media business page to educate prospects and customers about various cannabis-related studies and findings. In addition, you can make infographics and videos that contain marijuana industry statistics and post them on social media.
Offline Marketing Materials
You can include statistical data about cannabis in your offline marketing materials such as flyers, brochures, postcards, and mails for your direct mail marketing campaign.
When you list your products in online marketplaces, you can include a sentence or two using cannabis industry statistics. Don't forget to quote the reference or include a link for proper crediting of the source.
Sales Presentations, Proposals, And Business Meetings
It's worth including marijuana industry statistics when presenting sales or business proposals to investors and other stakeholders to increase the credibility of your presentation. By doing so, you can expand your business by encouraging more investors to invest in your company with a great sales or business proposal.
Conclusion
The cannabis industry thrives and even goes beyond its goals because more and more people, states, and countries are accepting marijuana products for medical and recreational purposes. You can use cannabis industry statistics to market and grow your business by educating consumers and aspiring entrepreneurs.