In the past few years, Flowermate has released a lot of great products. They have a good history of making affordable, durable and portable vaporizers, designed and engineered in California, USA. Three years after its release, the Flowermate Slick is still a top shelf vaporizer. This vape surprised us with some smart features, it's tasty, stylish, and easy to use.
The Flowermate Slick is a pen-style convection vaporizer designed for both dry herb and concentrates like shatter and wax as well, both recreational and medicinal, enjoying aromatherapy on the go and elevate your cannabis vaping experience in the healthiest, most natural, and efficient way.
It's an attractive vaporizer with a carbon fiber finish and a magnetic mouthpiece cover and has the shape of an oversized pen. The aluminum body is coated in a layer of carbon fiber that makes the vaporizer extra durable, sleek and discreet and fits perfectly in most pockets and bags.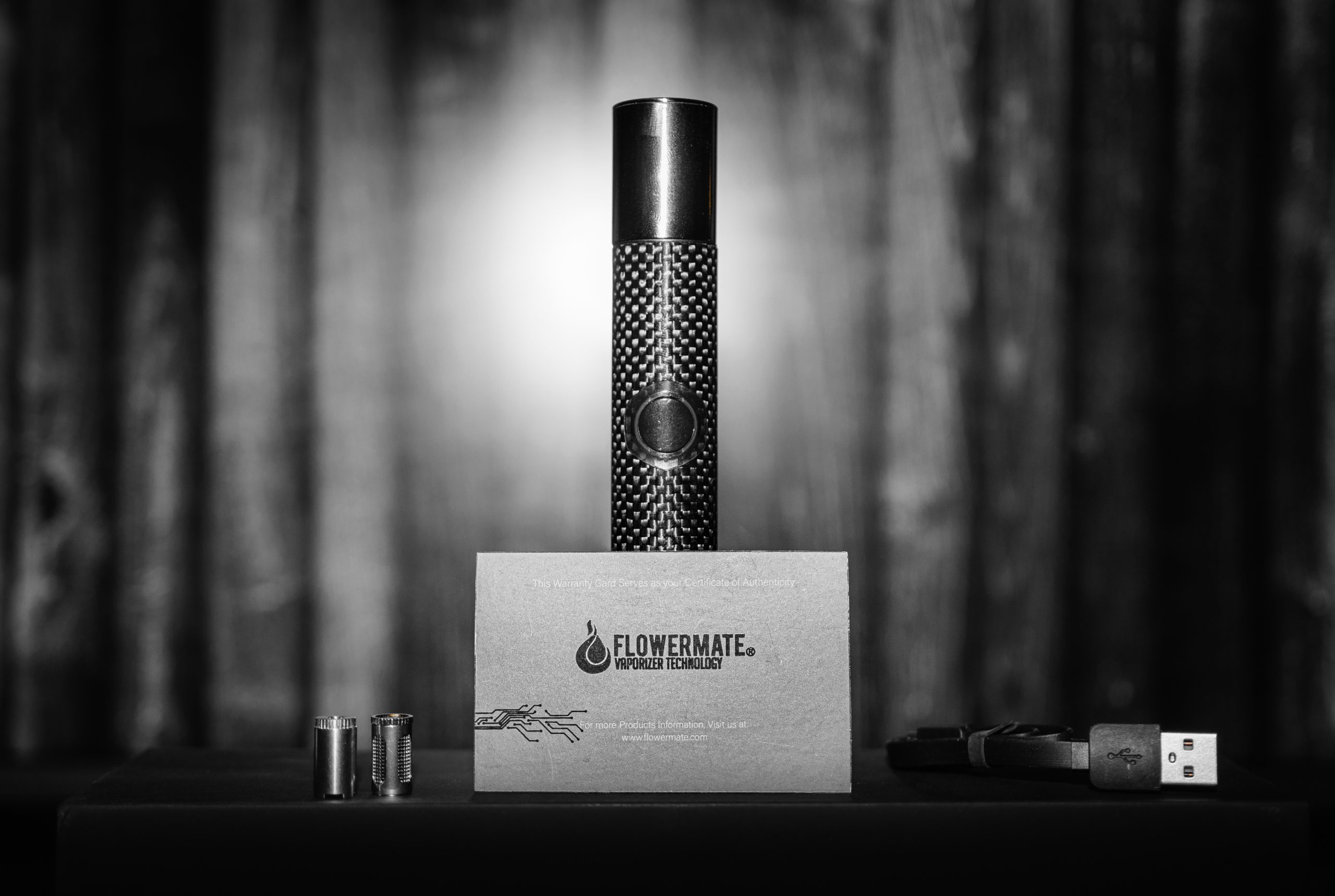 The Flowermate Slick also has haptic feedback sensors that let you know the status of your device without even needing to look at it.  We must admit that for the reason of being so easy to use, the Slick is dedicated rather for new users.
Flowermate SLICK Heating chamber
The Flowermate Slick vape comes with three temperature settings accessible through the single button control that are color-coordinated and is able to reach your chosen temperature in a rapid 30 seconds and vibrates when ready.
Blue represents the lowest temperature 385°F (196°C), green goes for 400°F (204°C), and red is 420°F (215°C). Regarding the blue setting, 385°F (196°C) is a relatively high starting point, because the starting point usually being between 320°F (160°C) and 356°F (180°C), as vaporizers produce a natural herb flavour at lower temperatures.
With 4 intakes surrounding the mouthpiece, the airpath is fully isolated through the convective metal spiral for cooler draws.
The black ceramic oven chamber can hold up to 0.4 grams of material and the borosilicate glass mouthpiece is located directly on top of the oven protected by a magnetic cover. What impressed us is that when you put the magnetic cover back on, the vaporizer automatically shuts off.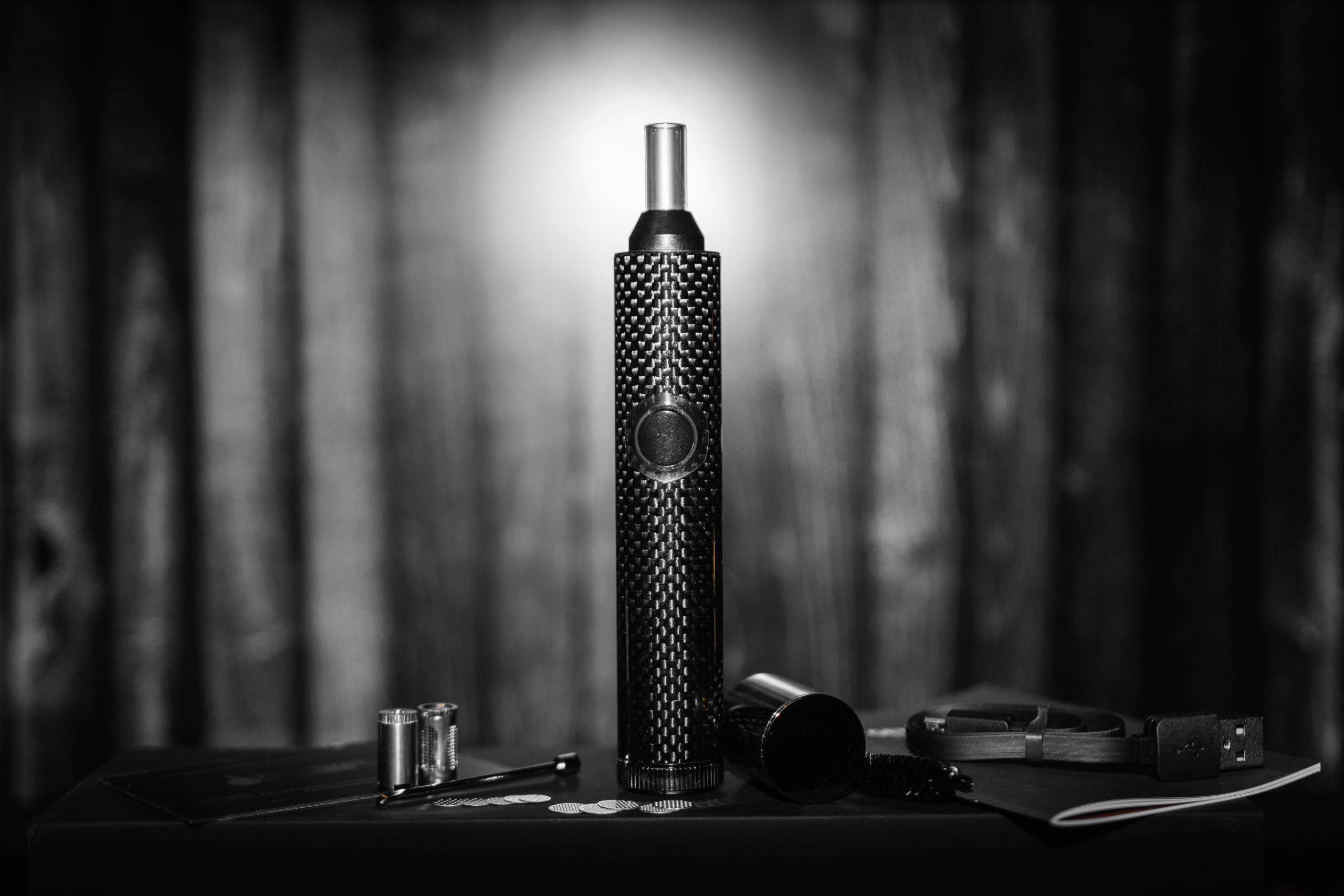 Vapor Quality
Ensuring you're not pulling too aggressively you will be pressed to find that the borosilicate glass mouthpiece cools the vapor very well. The taste is much more distinct than you would experience with other portable vaporizers. Convection heating provides thick, tasty vapor quality that goes down smoother than pure conduction. The waxy pads are great too and the entire vaping experience is very enjoyable.
Battery
This vaporizer runs on a powerful and removable 2500 mAh battery. Because they use the universal 18650 rechargeable battery, you can pick up an extra one to be sure you never run out of energy. You will get between 7 and 11 sessions per battery charge with the Slick, depending on what temperatures you are using. The included battery with 20A max output can be charged through the Micro-USB port. If the vaporizer is not used for over five minutes, the switch turns off automatically.
We do recommend grabbing a couple extra 18650 batteries and a charger like a Nitecore or Xtar to properly charge your batteries. A charger will get the job done faster and safer and the batteries will have a long lifespan.
The only downside of this vaporizer is the lack of having a battery life indicator.
What's inside
The Flowermate Slick vaporizer
18650 High Drain 2500mAh Battery (20 amp)
5x Stainless Chamber Screens
5x Stainless Mouthpiece Screens
Cleaning Brush
Flower Pod
Micro USB Cable
OIl/Waxy Pod
Packing/Dabbing Tool
Instructions Manual
Warranty Card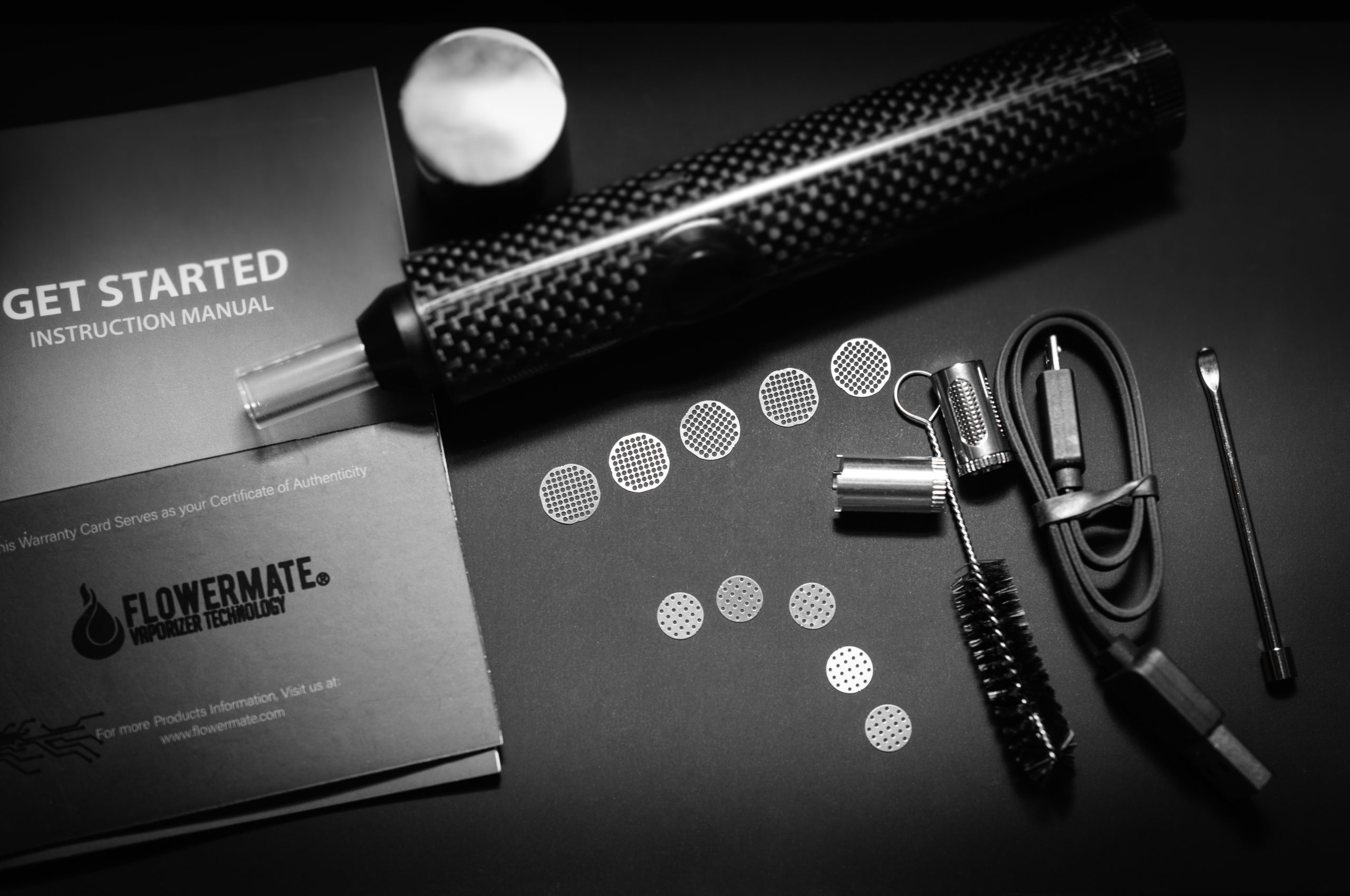 Regarding warranty, if anything should happen to your Flowermate Slick within the first year of ownership, the Flowermate Slick is covered under the TVAPE Hassle-Free Warranty Program.
Conclusion
Overall, vapor quality is great for an entry level vaporizer and the Flowermate Slick is of extremely good value, especially considering all the features and performance. If you're looking for a pen-shaped dry herb vaporizer that feels great in your hand, and most important, on your wallet, Flowermate Slick is a great choice and gives users the freedom to vaporize herbs and concentrates.
The best place to buy the Flowermate Slick vaporizer is from Tvape: US, Europe.
If you have questions about our Flowermate Slick vaporizer review, drop us a comment below. If you want to see how it looks inside, the guys from Puffitup did a full teardown of this vaporizer.